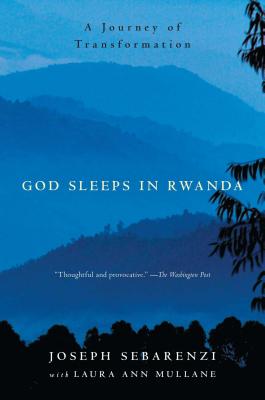 God Sleeps in Rwanda (Paperback)
A Journey of Transformation
Atria Books, 9781416575771, 272pp.
Publication Date: January 11, 2011
Other Editions of This Title:
Hardcover (9/8/2009)
Paperback (5/1/2011)
* Individual store prices may vary.
Description
Joseph Sebarenzi's parents, seven siblings, and countless other family members were among 800,000 Tutsi brutally murdered over the course of ninety days in 1994 by extremist Rwandan Hutu—an efficiency that exceeded even that of the Nazi Holocaust. His father sent him away to school in Congo as a teenager, telling him, "If we are killed, you will survive." When Sebarenzi returned to Rwanda after the genocide, he was elected speaker of parliament, only to be forced into a daring escape again when he learned he was the target of an assassination plot.

Poetic and deeply moving, God Sleeps in Rwanda shows us how the lessons of Rwanda can prevent future tragedies from happening all over the world. Readers will be inspired by the eloquence and wisdom of a man who has every right to be bitter and hateful but chooses instead to live a life of love, compassion, and forgiveness.
About the Author
JOSEPH SEBARENZI is the former speaker of the Rwandan parliament, a position he held from 1997 until 2000. In this role he represented his country all over the world, including as a speaker at the United Nations, the European Union Assembly in Belgium and France, the Inter-parlimentary Union in Egypt, and the U.N. Human Rights Commission in South Africa.

A survivor of the 1994 genocide, today Mr. Sebarenzi is a professional public speaker who has spoken about reconciliation and conflict management to thousands of people at high schools, colleges, universities, and fundraising events across the United States and Canada. He has also provided expert commentary on National Public Radio, BBC, and the Voice of America on matters related to genocide, reconciliation, and restorative justice.

In addition, Mr.Sebarenzi serves on the faculty at the School for International Training in Vermont, teaching reconcilation and conflict management courses. He holds a master's degree in international and intercultural management from the School for International Training and is a doctoral candidate in peace studies at the National University of Ireland. In 2001, he was awarded an honorary doctorate of law from Marlboro College in Vermont.

LAURA MULLANE is a freelance writer who has been published in the Washingtion Post and Hemispheres magazine. She also authored a book, Bridges of Opportunity: A History of the Center for Adult Learning (American Council on Education, 2001) and serves as editorial consultant for the American Council on Education's Center for Lifelong Learning, writing extensively about issues related to higher education.
Praise For God Sleeps in Rwanda: A Journey of Transformation…
"A thoughtful critique of Kagame's regime." --Stephen Kinzer, Washington Post