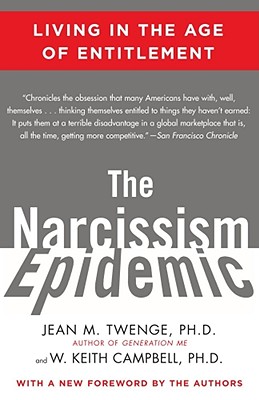 The Narcissism Epidemic
Living in the Age of Entitlement
Paperback

* Individual store prices may vary.
Other Editions of This Title:
MP3 CD (6/17/2014)
Hardcover (4/21/2009)
Compact Disc (6/17/2014)
Compact Disc (6/17/2014)
Description
Narcissism—an inflated view of the self—is everywhere. Public figures say it's what makes them stray from their wives. Parents teach it by dressing children in T-shirts that say "Princess." Teenagers and young adults hone it on Facebook, and celebrity newsmakers have elevated it to an art form. And it's what's making people depressed, lonely, and buried under piles of debt.

Jean Twenge's influential first book, Generation Me, spurred a national debate with its depiction of the challenges twenty- and thirty-somethings face in today's world—and the fallout these issues create for educators and employers. Now, Dr. Twenge turns her focus to the pernicious spread of narcissism in today's culture, which has repercussions for every age group and class. Dr. Twenge joins forces with W. Keith Campbell, Ph.D., a nationally recognized expert on narcissism, to explore this new plague in The Narcissism Epidemic, their eye-opening exposition of the alarming rise of narcissism and its catastrophic effects at every level of society. Even the world economy has been damaged by risky, unrealistic overconfidence. Drawing on their own extensive research as well as decades of other experts' studies, Drs. Twenge and Campbell show us how to identify narcissism, minimize the forces that sustain and transmit it, and treat it or manage it where we find it. Filled with arresting, alarming, and even amusing stories of vanity gone off the tracks (would you like to hire your own personal paparazzi?), The Narcissism Epidemic is at once a riveting window into the consequences of narcissism, a prescription to combat the widespread problems it causes, and a probing analysis of the culture at large.
Atria Books, 9781416575993, 368pp.
Publication Date: April 13, 2010
About the Author
Jean M. Twenge, PhD, a professor of psychology at San Diego State University, is the author of more than a hundred scientific publications and two books based on her research, Generation Me and The Narcissism Epidemic, as well as The Impatient Woman's Guide to Getting Pregnant. Her research has been covered in Time, The Atlantic, Newsweek, The New York Times, USA TODAY, and The Washington Post. She has also been featured on the Today show, Good Morning America, Fox and Friends, CBS This Morning, and National Public Radio. She lives in San Diego with her husband and three daughters.

W. Keith Campbell, Ph.D., Associate Professor of Psychology at the University of Georgia, is the author of more than 65 scientific journal articles and book chapters and the book, When You Love a Man Who Loves Himself: How to Deal with a One-way Relationship (Sourcebooks, 2005). He has published more than 30 journal articles and chapters on narcissism, more than any other academic researcher. He is also a contributing author of the study on the rise in narcissism covered by the Associated Press. His research has appeared in USA Today, Newsweek, and The Washington Post, and he has been featured on Fox News' The Big Story and made numerous radio appearances. He holds a BA from the University of California at Berkeley, an MA from San Diego State University, and a Ph.D. from the University of North Carolina at Chapel Hill. He lives in Athens, Georgia, with his wife and daughter.