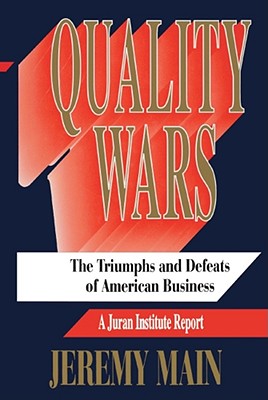 Quality Wars (Paperback)
The Triumphs and Defeats of American Business
Free Press, 9781416576969, 384pp.
Publication Date: September 12, 2007
* Individual store prices may vary.
Description
The quality revolution in American industry, now more than a decade old, has produced an avalanche of books, but this is the first in-depth study reporting the struggles from inside the companies that have attempted large-scale improvement efforts. Jeremy Main has interviewed more than a dozen chief executives, all of whom have managed quality programs, including Charles Clough of Nashua, Robert Galvin of Motorola, James Hagen of Conrail, Roger Milliken of Milliken, Ray State of Analog Devices, and John Young of Hewlett-Packard, in addition to hundreds of other senior executives, workers, labor representatives, city officials, military officers, and hospital administrators. Through their experiences, Main reveals what works and what doesn't work when an organization attempts the transforming leap into Total Quality Management. Their message comes through loud and clear: it is a tough battle, but persistence can win priceless rewards.
The notable successes at BancOne, L.L. Bean, Ford, Hewlett-Packard, Motorola, Saturn, Solectron, and Xerox prove it. However, Main shows that Motorola and Hewlett-Packard, among the earliest and best practitioners of total quality, are still finding obstacles to overcome. And some other early converts, such as Florida Power & Light, have stumbled badly along the way. Main's vivid descriptions of these setbacks capture the difficulties inherent in implementing a total quality system. His dramatic accounts of success and failure at companies such as Milliken and Intel convey valuable knowledge that is otherwise gained only by actual experience.
The way to achieve the "new quality" of today, Main shows, is through a full commitment to TQM. He reveals through the experiences of these companies that TQM is not just a management tool, as it has often been used, but a management philosophy that is indispensable in attaining a high level of quality -- now a requisite for competing successfully. With the collaboration of the Juran Institute, Main demonstrates how TQM has transformed companies by improving quality at all levels. The accounts of these triumphs are direct evidence that world-class quality is attainable by American industry, and will inspire and point the way for executives, managers, and government officials in their timeless pursuit of total quality.
About the Author
Jeremy Main is a former member of Fortune magazine's board of editors. He has reported on a wide range of quality programs throughout the 1980s and into the 1990s. The Juran Institute is one of the leading quality consulting firms in the world.