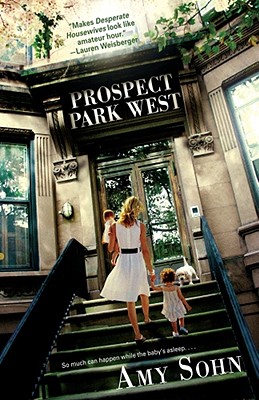 Prospect Park West (Paperback)
Downtown Press, 9781416577652, 379pp.
Publication Date: May 4, 2010
* Individual store prices may vary.
or
Not Currently Available for Direct Purchase
Description
In Amy Sohn's smart, sexy, satirical peek into the bedrooms and hearts of Prospect Park West, the lives of for women come together during one long, hot Brooklyn summer. Frustrated Oscar-winning actress Melora Leigh eager to relieve the pressures of raising her adopted toddler, feels the seductive pull of kleptomania; Rebecca Rose, missing her formerly robust sex life, begins a dangerous flirtation with handsome neighborhood celebrity Lizzi O'Donnell, former lesbian (or "hasbian"), wonders what draws her to women despite her sexy husband and adorable baby; and Karen Bryan Shapiro consumes herself with a powerful obsession--snagging the ultimate three-bedroom apartment in a well-maintained, P.S. 321-zoned co-op building. As the women's paths intertwined (an sometimes collide), each must struggle to keep her man, her sanity . . and her playdates.
Praise For Prospect Park West…
"Amy Sohn's new novel makes Desperate Housewives look like amateur hour. I started blushing on the first page and didn't ever stop." -- LAUREN WEISBERGER, author of Chasing Harry Winston and The Devil Wears Prada



"I could not put down Amy Sohn's Prospect Park West. It's hilarious and juicy, filled with Tom Wolfe-like depictions of America today. It will appeal to everyone: hipsters, non-hipsters, men, women, Brooklynites, non-Brooklynites, straight people, gay people, and hasbians (i.e. former lesbians -- one of the many words I learned in Sohn's book)." -- A. J. JACOBS, New York Times bestselling author of The Year of Living Biblically and The Know-It-All



"In Prospect Park West, we follow four Brooklyn moms as they deal with obsessions, neuroses, sexual confusion, and oh, yes, children. This novel is Amy Sohn at her best -- dishy, sexy, smart, and provocative." -- GIGI LEVANGIE GRAZER, New York Times bestselling author of The Starter Wife and Queen Takes King



"I've lived in Amy Sohn's Brooklyn for nineteen years. Or so I used to think. How on earth did I miss the frenzy of thirty-something MILFs adulterously running amok?" -- KURT ANDERSEN, author of Heyday



"Sohn is the ultimate New York City girl...(She) weaves each individual story together beautifully.... Sure to appeal to fans of sophisticated chick and mommy lit, this is just too much fun, and the pages turn like the wind. Bring on a sequel!" -- Library Journal (starred review)



"There is an undeniable fascination in seeing [the characters'] lives unfold.... Sohn will attract many new followers." -- Booklist



"Sohn weaves (the) stories together to create what could be described as the perfect beach book." -- Boston Globe



"Darkly comedic." -- New York Post Page Six
We're introduced to each of the four protagonists at a low point in their lives; each suffers from the loss or absence of something important to them. What is it each woman feels she lacks? Compare and contrast their needs and desires. Do you think they have a lot in common, or are they very different people? What aspects of yourself do you see in these characters, if any?
Religion subtly influences how these women live their lives. For example, in the first chapter, Rebecca reveals that despite her misery, her Jewish upbringing has taught her to eschew divorce as something deeply shameful. Explain the ways in which religion and spirituality influence the worlds of Rebecca and Karen.
The author honestly and unabashedly explores the many facets of motherhood through her four protagonists and their husbands. Rebecca and Lizzie, for example, wonder if having a baby was the right decision, while Karen's whole life revolves around her desire to have a second child. Melora's ambivalence about childbirth led her to adopt. Describe how each couple seems to feel about having children and how they have or have not adjusted to this major life change. How do you feel about the ways in which they have, or haven't, changed after becoming parents? If you have children, how did parenthood change you? If you don't have children, did this book alter the way you see motherhood?
In Amy Sohn's Park Slope, identity is an all-consuming concern for people, including some of her main characters. How do the characters of this novel define themselves and others? How do your perceptions of these characters match up with their perceptions of themselves?
To what extent does the author use aspiration as a theme in the novel, especially with regard to the title? Is it a good or bad thing to compare yourself to others? Why did she call the book Prospect Park West when only one of the characters lives on that street? Talk about the symbolism of the park throughout the novel, such as when Lizzie and Rebecca meet there and when Rebecca walks around it at the end.
Rebecca realizes that she kissed Lizzie because "it had been so long since she'd been touched by a grown-up. Touch was like water or food; you needed it or you'd shrivel into nothing" (page 72). What else does motherhood deprive these four women of? How does having a child affect the lives of their husbands?
Sohn uses many real-world references, such as celebrity characters, television shows, shops, events, even the presidential race of Barack Obama. What effect did this have on your reading experience?
Karen, who thinks of herself as progressive for her career in social work and for having married a Jewish man, actually displays a lot of racist characteristics, such as omitting her husband's obviously Jewish last name when she thinks it will be a detriment, or resenting the black children who overrun the "white playgrounds" in the summer. And she's not the only character concerned about ethnicity. Identify moments in the novel where race issues emerge. What do you think the author is trying to do with these moments?
Though we begin with four protagonists who are struggling with relatively common concerns and problems, these women slowly become enmeshed in soap opera–level disasters of their own making. Do these characters cross from sanity to insanity? Did their disasters affect how well you were able to identify with them? Did your sympathy for them change over the course of the novel? Why or why not?
When Rebecca and Stuart finally have sex, did you feel happy for Rebecca? Did you feel bad at all for Theo? How about Melora? Discuss how this moment influences your opinion of each of these characters.
In "Page Six," (pages 189–198), we see Melora quite literally falling apart. How does the author use physical appearance in this and in other chapters to illustrate what's going on with her characters emotionally? Why do you think it takes such extreme circumstances before these women can find solutions to their problems? Do you find this an authentic reflection of reality? Why or why not?
Lizzie observes of Rebecca that "this was why she would never make real friends. You couldn't make friends if all you ever thought about was yourself" (page 357). And yet, Lizzie's entire "friendship" with Rebecca has revolved around Lizzie's desire for her and manipulations to force a sexual encounter between them. Do you think Lizzie has really learned her lesson? Do you think any of the women have? Discuss where they are at the end of the novel compared to where they began.
How do you feel about Melora's epiphany, courtesy of Dr. Levine: "This was what happened when you learned to tolerate frustration. Everything fell into place" (page 364). What signs are there that things may not be as wonderful as Melora seems determined to believe they are? How does her new mantra apply to the lives of the other women in the novel?
The endings for each of the four couples are very different. Discuss the last four chapters. Does anyone get a truly happy ending? Why do you think the author chose to avoid a "neat" conclusion to the story?
Advertisement