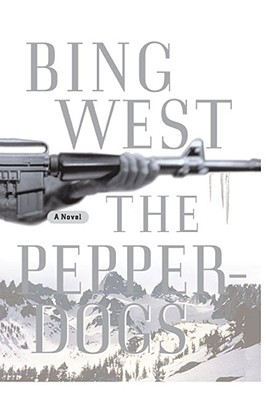 The Pepperdogs
A Novel
Paperback

* Individual store prices may vary.
Description
The Serbs behind them were preparing to attack, and in front of them lay open ground, flat and white as a shroud. We've run a hundred miles, Lang thought, to come up a football field short.

When a fellow Marine is kidnapped, Captain Mark Lang and his recon team, the Pepperdogs, disobey orders and cross into snowbound Serbia to rescue him. A leader who can't quit, Lang is urged on by his team members. Five New York City reservists -- a trader, a fireman, an auto mechanic, a fitness trainer and a computer geek -- set out on an impossible odyssey. Superbly fit and equipped, they employ speed, ambush and the Internet to close in on their target.

After a team member sends back e-mails describing their firefights, the Pepperdogs become front-page news. Once Weekend Warriors, by the end of their mission they are the most feared unit in Europe, fighting anyone who stands in their way. The press calls them "The Wild Bunch on technological steroids." Lang, haunted by memories of his missing buddy's dying mother, knows the horrific costs they are inflicting but won't turn back. Their rescue mission, condemned by the military, slowly escalates into a standoff between the Oval Office and NATO Europe with the world watching.

A razor-sharp storyteller and Pentagon insider, Bing West unleashes a blistering techno thriller that probes the limits of physical and mental endurance. Drawing on firsthand knowledge of combat, West fuses the grit of Blackhawk Down with the behind-the-scenes intrigue of The West Wing, showing how in the near future a squad can become wired to the White House, to the dismay of the traditional chain of command. The Pepperdogs is a gripping story about American reserves, conflicting loyalties and devotion to comrade. What price will a nation pay to save one life?
Simon & Schuster, 9781416577928, 384pp.
Publication Date: September 21, 2007
About the Author
Francis J. "Bing" West served in Vietnam as a Marine infantry officer, and later as Assistant Secretary of Defense for International Security Affairs, Dean of Research at the Naval War College, an analyst at the RAND Corporation, and a lead CNN commentator during Desert Storm. A frequent contributor to defense journals, West is also the author nine books.