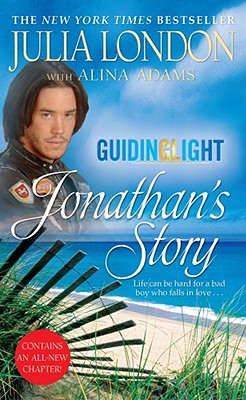 Guiding Light (Mass Market)
Jonathan's Story
Pocket Books, 9781416578239, 384pp.
Publication Date: September 30, 2008
* Individual store prices may vary.
Description
From New York Times bestselling author Julia London comes the passionate, suspenseful novel based on Guiding Light, the 2007 Emmy Award-winning daytime drama.

When his true love Tammy Winslow died saving his life, Jonathan Randall had only one reason left for existing: his baby daughter Sarah. But Sarah's great-grandfather, powerful millionaire Alan Spaulding, was obsessed with bringing her up himself. Faking his death, Jonathan fled Springfield, leaving only his mother Reva Shayne aware he and Sarah were still alive.

After being on the run for months, Jonathan comes to the sleepy town of Tourmaline, California, with no intention of staying. But ten-month-old Sarah seems strangely happy here, and Jonathan himself feels an inexplicable pull toward the town. It's almost as if Tammy's ghost were whispering to him that he should stay for a while. But life is hard for a bad boy trying to turn good, until a local young woman comes into his life.

Aubrey Cross isn't quite sure what attracts her to this stranger in Tourmaline. Perhaps it's his dark good looks; perhaps it's because she too has always felt as if she doesn't belong in Tourmaline, even though her father is the popular town sheriff. Aubrey alone knows that this pillar of the community is in reality a sadistic abuser.

And, of course, with a past like Jonathan's, it's no surprise that life doesn't stay peaceful in Tourmaline for long. Sheriff Zeke Cross is sure there are some secrets buried, and he's not going to rest until he uncovers them. Can Reva protect Jonathan and Sarah before they're discovered by the dangerous Alan Spaulding?

Featuring some of Guiding Light's favorite characters, Jonathan's Story is the passionate tale of how Jonathan may have finally found a second chance for true love...but who knows better than Jonathan how quickly everything you love can be ripped away from you?
About the Author
Julia London is a New York Times and USA TODAY bestselling author of more than forty romantic fiction novels. She is the author of the critically acclaimed Highland Grooms historical series, including Wild Wicked Scot, Sinful Scottish Laird, Hard-Hearted Highlander, Devil in Tartan, Tempting the Laird, and Seduced by a Scot. She is also the author of several contemporary romances, such as the Homecoming Ranch series and the Lake Haven series, including Suddenly Dating, Suddenly in Love, and Suddenly Engaged. Julia is the recipient of the RT Book Reviews Award for Best Historical Romance and a six-time finalist for the prestigious RITA award for excellence in romantic fiction. She lives in Austin, Texas.

Alina Adams is Creative Content Producer for As The World Turns and Guiding Light. She is also the author of The Figure Skating Mystery series of books.
or
Not Currently Available for Direct Purchase