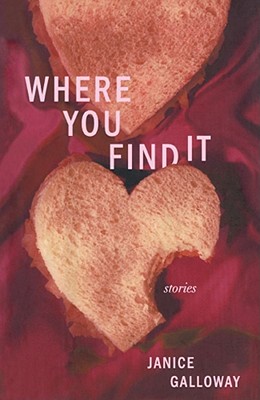 Where You Find It
Stories
Paperback

* Individual store prices may vary.
Description
"VALENTINE'S DAY MAKES ME EMBARRASSED," writes Janice Galloway in the opening lines of Where You Find It. The collection deals with love in its many guises -- the way relationships suddenly turn; how a look, a gesture, a word can heal or hurt. Love in Galloway's world is more likely to resemble a heart-shaped ham sandwich than the flowers and chocolates that bear the standard in more traditional "love stories."

In the manner of Lorrie Moore and Raymond Carver, Galloway's tales explore the psychological aspects of love and the overpowering yearning to communicate. Whether it's the title piece, which tells of a prostitute's passion for her pimp's kisses, or "Valentine," in which a celebratory evening is undermined by minor disappointments and misunderstandings, the stories that comprise Where You Find It assume that powerful feelings always contain a dimension of disturbance.

Upon the collection's much-lauded publication in the United Kingdom, one reviewer was moved to predict that Janice Galloway "will certainly end up in anthologies: not Best Scottish Writers or Best Women Writers, but, quite simply, best."
Simon & Schuster, 9781416578420, 240pp.
Publication Date: September 25, 2007
About the Author
Janice Galloway's first novel, The Trick Is to Keep Breathing, was published in 1990 and won the MIND/Allen Lane Book of the Year and was shortlisted for the Whitbread First Novel and Scottish First Book. A story from her second book, Blood, won the Cosmopolitan/Perrier Short Story Award. Her second novel, Foreign Parts, won the McVitie's Prize in 1994, the same year she won the American Academy of Arts and Letters' E. M. Forster Award. She lives in Glasgow.