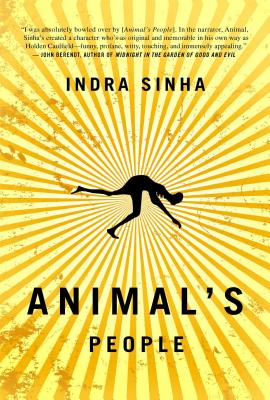 Animal's People
A Novel
Paperback

* Individual store prices may vary.
Description
In this Booker-shortlisted novel, Indra Sinha's profane, furious, and scathingly funny narrator delivers an unflinching look at what it means to be human.

I used to be human once. So I'm told. I don't remember it myself, but people who knew me when I was small say I walked on two feet, just like a human being...

Ever since he can remember, Animal has gone on all fours, his back twisted beyond repair by the catastrophic events of "that night" when a burning fog of poison smoke from the local factory blazed out over the town of Khaufpur, and the Apocalypse visited his slums. Now just turned seventeen and well schooled in street work, he lives by his wits, spending his days jamisponding (spying) on town officials and looking after the elderly nun who raised him, Ma Franci. His nights are spent fantasizing about Nisha, the girlfriend of the local resistance leader, and wondering what it must be like to get laid.

When Elli Barber, a young American doctor, arrives in Khaufpur to open a free clinic for the still suffering townsfolk—only to find herself struggling to convince them that she isn't there to do the dirty work of the Kampani—Animal gets caught up in a web of intrigues, scams, and plots with the unabashed aim of turning events to his own advantage.

Profane, piercingly honest, and scathingly funny, Animal's People illuminates a dark world shot through with flashes of joy and lunacy. A stunning tale of an unforgettable character, it is an unflinching look at what it means to be human: the wounds that never heal and a spirit that will not be quenched.
Praise For Animal's People: A Novel…
"Animal's People is raw, furious, and utterly compelling. Indra Sinha is a brave writer, and he's produced a novel of great power." -- Mohsin Hamid, author of The Reluctant Fundamentalist

"From the arresting opening line of Indra Sinha's vivid second novel, the voice of Animal, the narrator, leaps out to grab you by the throat. Bawdy, irreverent and smart...Animal's People -- part coming-of-age Bildungsroman, part vicious critique of corporate terrorism -- is a bold and punchy tale." -- Lucy Beresfoford, New Statesman

"An extraordinary achievement. Sinha fends off all condescension with the salty and scabrous urchin's voice -- a virtuoso compound of Irvine Welsh and Salman Rushdie. Yet, for all its surface profanity, Animal's People mingles sentiment with its savagery.... [S]hould spur a new generation to find out about the foulest act of corporate homicide in modern history." -- Boyd Tonkin, The Independent

"Compelling, heart-wrenching and laced with redemptive hope...it explores the really big issues -- justice, equality, the nature of humanity -- and does not once flinch from what it discovers." -- Soumya Bhattacharya, The Observer

"I was absolutely bowled over by [Animal's People]. It is brilliant. In the narrator, Animal, Sinha's created a character who's as original and memorable in his own way as Holden Caulfield -- funny, profane, witty, touching and immensely appealing." -- John Berendt, author of Midnight in the Garden of Good and Evil

"A double triumph for Sinha: The plight of the world's powerless has seldom been conveyed more powerfully, while Animal is destined to be one of fiction's immortals." -- Kirkus Reviews

"[A]n antic, ribald, and searing tale of greed and heroismÉ.Sinha's daring farce asks what it means to be human, rekindles compassion for the still uncompensated victims of the real-life catastrophe, and celebrates the resiliency of love and goodness in the poorest and most poisoned of places." -- Booklist (starred review)

"Sinha's writing is a blade gleaming in the moonlight. And the novel, for all its pain, is a work of profound humanity." -- Kamila Shamsie, The Guardian
Simon & Schuster, 9781416578796, 400pp.
Publication Date: March 17, 2009
About the Author
Indra Sinha was born in India. His work of non-fiction, The Cybergypsies, and his first novel, The Death of Mr Love, met with widespread critical acclaim. He lives in France.