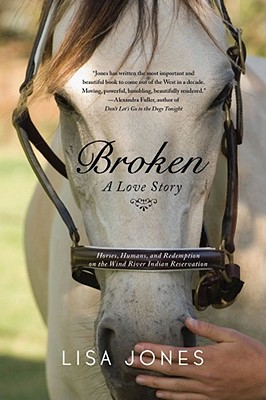 Broken
A Love Story
Hardcover

* Individual store prices may vary.
Other Editions of This Title:
Paperback (5/18/2010)
Description
Writer Lisa Jones went to Wyoming for a four-day magazine assignment and came home four years later with a new life.
At a dusty corral on the Wind River Indian Reservation, she met Stanford Addison, a Northern Arapaho who seemed to transform everything around him. He gentled horses rather than breaking them by force. It was said that he could heal people of everything from cancer toÊbipolar disorder. He did all this from a wheelchair; he had been a quadriplegic for more than twenty years.
Intrigued, Lisa sat at Stanford's kitchen table and watched. She saw neighbors from the reservation and visitors from as far away as Holland bump up the dirt road to his battered modular home, seeking guidance and healing for what had broken in their lives. She followed him into the sweat lodge -- a framework of willow limbs covered with quilts -- where he used prayer and heat to shrink tumors and soothe agitated souls. Standing on his sun-blasted porch, pit bulls padding past her, she felt the vibration from thundering bands of Arabian horses that Stanford's young nephews brought to the ring to train.
And she listened to his story. Stanford spent his teenage years busting broncs, seducing girls, and dealing drugs. At twenty, he left the house for another night of partying. By morning, a violent accident had robbed him of his physical prowess and left in its place unwelcome spiritual powers -- an exchange so shocking that Stanford spent several years trying to kill himself. But eventually he surrendered to his new life and mysterious gifts.
Over the years Lisa was a frequent visitor to Stanford's place, the reservation and its people worked on her, exposing and healing the places where she, too, was broken.
Broken entwines her story with Stanford's, exploring powerful spirits, material poverty, spiritual wealth, friendship, violence, confusion, death, and above all else,"a love that comes before and after and above and below romantic love."
Praise For Broken: A Love Story…
"A stunning accomplishment! Lisa Jones captures the wild beauty of the Wind River Reservation, the pathos and joy of the Arapahos who live there, and the remarkable life of a modern-day medicine man. All of this while on a healing journey into the broken places of her own heart."
– Margaret Coel, author of Blood Memory



"A beautifully written, heart wrenching journey into the depths of the soul. A tale of mystery, courage, and love between men, women and horses."
-- Jim Fergus, author of One Thousand White Women and The Wild Girl




"Arapaho elder Stanford Addison is the most wonderful of heroes - and Jones is exactly the guide to bring him to us."
--Alexandra Fuller, author of The Legend of Colton H. Bryant and Don't Let's Go to the Dogs Tonight




"Intrepid only begins to describe Lisa Jones, who goes to admirable and adventuresome lengths to take the measure of a singular American spirit."
—Ted Conover, author of The Routes of Man and Newjack




"[Lisa Jones] has a knack for describing events, people, and scenery so well that the reader can almost taste the weak, sugary coffee and feel the oppressive heat of the ceremonial sweat lodge."
-- Library Journal (starred review).




"It is the rare non-Native writer who can gain access to the hearts of Native people to share their stories; rarer still is the non-Native writer who tells those stories with both a clear eye and a compassionate heart. Lisa Jones has not only succeeded on both counts, she has offered us a story of a man, a people, and the bond between human and animal that will touch the heart of any reader...What a fine book."
--Kent Nerburn, author of Neither Wolf nor Dog and The Wolf at Twilight




"BROKEN is about life loving us all equally and connecting us to spiritual responsibility. If you don't read BROKEN, you are missing out!"
Tiokasin Ghosthorse – Host of First Voices Indigenous Radio, WBAI NY.



"I love this book... a harrowing and ecstatic journey of mind, body and soul—so beautifully told that the reader is not just transfixed but transformed."
--Abigail Thomas, author of A Three Dog Life



"Jones locates herself beautifully in a story that is hers and not hers. This is her first book. We look forward to the next." – Los Angeles Times



"A great endeavor; a beautiful and powerful tale. I would treat myself to BROKEN, relishing the language, and like a woman with the best dark chocolate red chile fudge, I would savor its pages."
-- Winona LaDuke, Anishinaabe activist and author of All our Relations: Native Struggles for Land and Life and Recovering the Sacred: the Power of Naming and Claiming
Scribner, 9781416579069, 288pp.
Publication Date: May 12, 2009
or
Not Currently Available for Direct Purchase