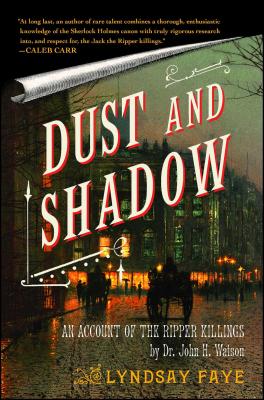 Dust and Shadow
An Account of the Ripper Killings by Dr. John H. Watson
Paperback

* Individual store prices may vary.
Other Editions of This Title:
Digital Audiobook (11/9/2010)
Hardcover (4/28/2009)
MP3 CD (12/1/2010)
Compact Disc (5/1/2012)
Compact Disc (12/1/2010)
Audio Cassette (12/1/2010)
Description
From the gritty streets of nineteenth century London, the loyal and courageous Dr. Watson offers a tale unearthed after generations of lore: the harrowing story of Sherlock Holmes's attempt to hunt down Jack the Ripper.

As England's greatest specialist in criminal detection, Sherlock Holmes is unwavering in his quest to capture the killer responsible for terrifying London's East End. He hires an "unfortunate" known as Mary Ann Monk, the friend of a fellow streetwalker who was one of the Ripper's earliest victims; and he relies heavily on the steadfast and devoted Dr. John H. Watson. When Holmes himself is wounded in Whitechapel during an attempt to catch the savage monster, the popular press launches an investigation of its own, questioning the great detective's role in the very crimes he is so fervently struggling to prevent. Stripped of his credibility, Holmes is left with no choice but to break every rule in the desperate race to find the madman known as "the Knife" before it is too late.

A masterly re-creation of history's most diabolical villain, Lyndsay Faye's debut brings unparalleled authenticity to the atmosphere of Whitechapel and London in the fledgling days of tabloid journalism and recalls the ideals evinced by Sir Arthur Conan Doyle's most beloved and world-renowned characters. Jack the Ripper's identity, still hotly debated around the world more than a century after his crimes were committed, remains a mystery ripe for speculation. Dust and Shadow explores the terrifying prospect of tracking a serial killer without the advantage of modern forensics, and the result is a lightning-paced novel brimming with historical detail that will keep you on the edge of your seat.
Praise For Dust and Shadow: An Account of the Ripper Killings by Dr. John H. Watson…
"At long last, an author of rare talent combines a thorough, enthusiastic knowledge of the Sherlock Holmes canon with truly rigorous research into, and respect for, what remains one of the greatest and most horrifying unsolved murder cases in modern history: the Jack the Ripper killings. Where others have failed, Lyndsay Faye's extremely impressive debut novel succeeds, on every level, providing thrilling entertainment without blatant exploitation. It will instantly take a place of distinction among the best attempts of contemporary authors to continue the work of Arthur Conan Doyle, and is, quite simply, a must for Holmes fans and Ripperologists alike." -- Caleb Carr, author of The Alienist and Killing Time

"Lyndsay Faye's depiction of Sherlock Holmes, Dr. Watson, and their world is exceptional in Dust and Shadow, an exciting and grimly vivid tale that confronts the murderous Jack the Ripper with A. Conan Doyle's immortal detective better than ever before." -- The Conan Doyle Estate

"Dust and Shadow is fast-moving fun. Lyndsay Faye has done a great job of combining the romance of Sherlock Holmes's London with the menace of Jack the Ripper." -- Phillip Margolin, author of Executive Privilege and Proof Positive

"Lyndsay Faye has crafted an elegant, suspenseful thriller that feels right at home on Baker Street. Sherlock Holmes is in good hands." -- Daniel Stashower, author of The Beautiful Cigar Girl

"A well-written and atmospheric adventure, Lyndsay Faye's excellent tale of the Victorian period and the clash of arch-foes Jack the Ripper and Sherlock Holmes makes for exciting reading. Journey back in time to the gas-lit London of the 1880s in search of the Whitechapel murderer. Come -- the game is afoot!" -- Stewart P. Evans, author of Jack the Ripper: Letters from Hell with Keith Skinner

"Lyndsay Faye's Dust and Shadow is a rare gem: A never-told story about Sherlock Holmes that rings true! The voices are near-perfect, her research impeccable -- all in all, a feast for fans of the Great Detective and the Good Doctor and for those thrilled by the hunt for Jack the Ripper!" -- Leslie S. Klinger, editor of The New Annotated Sherlock Holmes by Sir Arthur Conan Doyle, Leslie Klinger and John le Carre

"Sherlock Holmes is Jack the Ripper's mortal enemy, and never more so than in Lyndsay Faye's Dust and Shadow. This first novel has bags of atmosphere. With a great deal of skill, the fictional Holmes and Watson are carefully woven into the weft and woof of the true-life Ripper story." -- Donald Rumbelow, author of Jack the Ripper: Scotland Yard Investigates with Stewart P. Evans

"Any fan of Sherlock Holmes has at some point wished Conan Doyle had set the brilliant detective's singular mind against his most notorious real-life contemporary, Jack the Ripper. Lyndsay Faye finally makes that wish a reality. Dust and Shadow reads with authenticity and flavor -- as if Faye had been alongside Holmes and Watson witnessing their greatest challenge -- giving us a novel that Holmes fans, Ripper-case aficionados and all lovers of great stories will relish." -- Matthew Pearl, author of The Dante Club and The Last Dickens
Simon & Schuster, 9781416583318, 336pp.
Publication Date: December 1, 2009
About the Author
Lyndsay Faye is a writer and actress who lives in New York with her husband and cat.