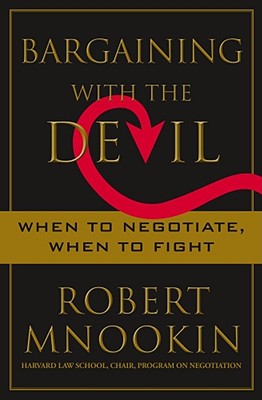 Bargaining with the Devil
When to Negotiate, When to Fight
Hardcover

* Individual store prices may vary.
Other Editions of This Title:
Digital Audiobook (2/8/2010)
Paperback (4/12/2011)
Paperback, Spanish (11/11/2010)
Description
In an age of terror, our national leaders face such critical decisions every day. Should we negotiate with the Taliban? Iran? North Korea?

In private disputes you too may face such adversaries: a business partner who has cheated you, a sibling grabbing part of your inheritance, a greedy divorcing spouse.

Across a wide range of difficult conflicts, Mnookin explains how to make wise decisions. He identifies the traps to avoid—emotional, strategic, and political—and the elements that are critical for success.

Mnookin's real life case studies cover a remarkable range. Some involve political leaders: Churchill's refusal in 1940 to negotiate with Hitler; Nelson Mandela's choice to initiate negotiations with the government of South Africa. Others involve individuals facing evil regimes: the Soviet KGB or Hitler's SS. Half the cases involve business or family disputes where Mnookin played an active role. In all of them, emotions ran high and demonization ran rampant: two giant computer companies fighting over software rights, the San Francisco Symphony torn by strike, a CEO who feels betrayed by a joint venture partner, and some family disputes that reached crisis points.

In this lively, informative, practical book, Robert Mnookin provides the reader with the tools we need to bargain with the devils in everyday life as well as evaluate the decisions of our national leaders.
Simon & Schuster, 9781416583325, 336pp.
Publication Date: February 9, 2010
About the Author
Robert H. Mnookin is the Samuel Williston Professor of Law at Harvard Law, the Chair of the Steering Committee of the Program on Negotiation at Harvard Law School, and the Director of the Harvard Negotiation Research Project. A renowned teacher and lecturer, Professor Mnookin has taught numerous workshops for corporations, governmental agencies and law firms throughout the world and trained many executives and professions in negotiation and mediation skills. Professor Mnookin has written or edited nine books and numerous scholarly articles. His books include Beyond Winning: Negotiating to Create Value in Deals and Disputes (with Scott Peppet and Andrew Tulumello) and Negotiating on Behalf of Others.
Coverage from NPR