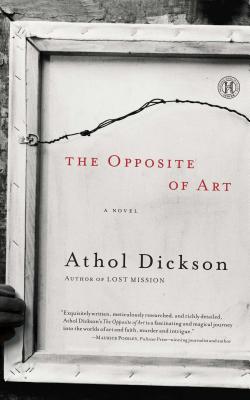 Opposite of Art (Original) (Paperback)
Howard Books, 9781416583486, 384pp.
Publication Date: September 13, 2011
Description
A great artist is cast into the icy Harlem River by a hit-and-run driver. His heart stops, and he sees something that defies description. Presumed dead by all who knew him and obsessed with the desire to paint the inexpressible, he embarks on a pilgrimage to seek help from holy men around the globe. But is it possible to see eternity without becoming lost within it? After a quarter of a century, when the world begins to whisper that he may be alive, two people come looking for the artist: the daughter he never knew existed, and the murderer who hit him on the bridge all those years ago.
Praise For Opposite of Art (Original)…
"Dickson's writing paints glorious pictures of each exotic locale, while weaving a most compelling story that includes elements of religion, art, murder, and redemption. Highly recommended read to lovers of art and suspense. Completely enjoyable."



"Exquisitely written, meticulously researched, and richly detailed, Athol Dickson's The Opposite of Art is a fascinating and magical journey into the worlds of art and faith, murder and intrigue."

-Maurice Possley, Pulitzer Prize-winning journalist and author


"After reading the first chapter, I felt an overwhelming need to know what happened next. Forget the ringing phone, never mind dinner, tell the children to pipe down—I had to keep reading. And I discovered that powerful opening was followed by a fully-developed story satisfying in every way. The Opposite of Art is a beautiful novel."

-Sibella Giorello, author of the award-winning Raleigh Harmon Series


"The Opposite of Art draws the reader in a way seldom accomplished in a novel. A powerful, moving story of reconciliation and redemption. Dickson has written another page-turner."

-Eric Wiggin, author of Blood Moon Rising


"Masterful imagery, unforgettable characters, and a compelling journey in search of answers to the fundamental questions of life. A book to be savored, themes to be discussed with friends, and a story to treasure for years to come."

-Stephanie Grace Whitson, novelist, public speaker, historian


"The Opposite of Art is classic Athol Dickson: a powerful, well-crafted story with thoughtful symbolism and deep resonance. A masterpiece! Dickson had better clear a shelf for all the awards this book will win."

-Rick Acker, author of When the Devil Whistles and Dead Man's Rule


"Dickson's novel shimmers on the page like a work of art itself, inviting readers to step beyond the evocative prose into the deeper truths within its pages. At once suspenseful and captivating, The Opposite of Art is impossible to put down and impossible to forget."

-T.L. Higley, author of Petra: City in Stone and Pompeii: City on Fire


"The Opposite of Art is mesmerizing, intriguing, and inspiring; a story that stays with you long after the last page."

-Nancy Moser, author of An Unlikely Suitor and Masquerade


"Athol's passionate, lyrical storytelling reminds me a bit of Salman Rushdie's Shalimar the Clown. Sheridan Ridler's artistic search for Glory is a journey into hope, and I'm profoundly grateful for the privilege of going along."

-Elizabeth White, author of ACFW Carol Award–winning Controlling Interest


"The Opposite of Art pulled me in from the first page and held me captive. Characters that are richly drawn, a plot that twists and turns. What a stunning read!"

-Traci DePree, author of Into the Wilderness
Advertisement