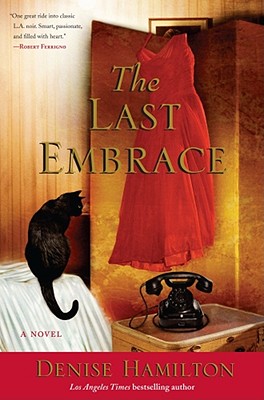 The Last Embrace (Hardcover)
Scribner, 9781416584933, 400pp.
Publication Date: July 1, 2008
Other Editions of This Title:
Paperback (7/1/2008)
* Individual store prices may vary.
Description
From Denise Hamilton, who has been hailed as "one of today's must-read writers" (Lee Child), comes a sexy, atmospheric, and seductive thriller set in 1949 Los Angeles, inspired by classic noir literature and a true unsolved crime.
Lily Kessler, a former stenographer and spy for the OSS, is asked by her late fiancé's mother to find out what happened to his sister Kitty, an actress who is missing from her Hollywood boardinghouse. Although the aspiring starlets at the house insist that Kitty is off somewhere furthering her career, her body is found the next day in a ravine below the Hollywood sign. Unimpressed by the local police, Lily investigates on her own.
As Lily delves further into Kitty's life, she encoun-ters fiercely competitive actors, gangsters, an eccentric special-effects genius, exotic denizens of Hollywood's nightclubs, and a homicide detective who might distract her from her quest for justice. But the landscape in burgeoning postwar Los Angeles can shift kaleido-scopically, and Lily begins to see how easily a young woman can lose her balance and fall prey to the alluring city's dangers....
With a vibrant cast of memorable characters, unerring insight into the desires and dark impulses that can flare between men and women, and a riveting narrative that builds to a stunning conclu-sion, The Last Embrace showcases Denise Hamilton at the height of her storytelling powers as she transports readers to a fascinating, transitional time in one of America's most beguiling cities.
or
Not Currently Available for Direct Purchase