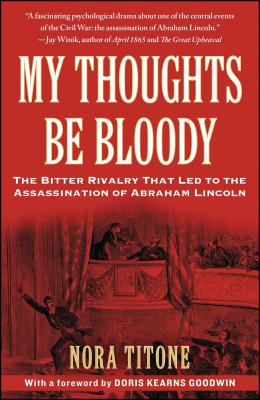 My Thoughts Be Bloody (Paperback)
The Bitter Rivalry That Led to the Assassination of Abraham Lincoln
Free Press, 9781416586067, 496pp.
Publication Date: May 31, 2011
Other Editions of This Title:
Digital Audiobook (10/18/2010)
Hardcover (10/19/2010)
CD-Audio (10/19/2010)
* Individual store prices may vary.
Description
The scene of John Wilkes Booth shooting Abraham Lincoln in Ford's Theatre is among the most vivid and indelible images in American history. The literal story of what happened on April 14, 1865, is familiar: Lincoln was killed by John Wilkes Booth, a lunatic enraged by the Union victory and the prospect of black citizenship. Yet who Booth really was—besides a killer—is less well known. The magnitude of his crime has obscured for generations a startling personal story that was integral to his motivation.

My Thoughts Be Bloody, a sweeping family saga, revives an extraordinary figure whose name has been missing, until now, from the story of President Lincoln's death. Edwin Booth, John Wilkes's older brother by four years, was in his day the biggest star of the American stage. He won his celebrity at the precocious age of nineteen, before the Civil War began, when John Wilkes was a schoolboy. Without an account of Edwin Booth, author Nora Titone argues, the real story of Lincoln's assassin has never been told. Using an array of private letters, diaries, and reminiscences of the Booth family, Titone has uncovered a hidden history that reveals the reasons why John Wilkes Booth became this country's most notorious assassin.

These ambitious brothers, born to theatrical parents, enacted a tale of mutual jealousy and resentment worthy of a Shakespearean tragedy. From childhood, the stage-struck brothers were rivals for the approval of their father, legendary British actor Junius Brutus Booth. After his death, Edwin and John Wilkes were locked in a fierce contest to claim his legacy of fame. This strange family history and powerful sibling rivalry were the crucibles of John Wilkes's character, exacerbating his political passions and driving him into a life of conspiracy.

To re-create the lost world of Edwin and John Wilkes Booth, this book takes readers on a panoramic tour of nineteenth-century America, from the streets of 1840s Baltimore to the gold fields of California, from the jungles of the Isthmus of Panama to the glittering mansions of Gilded Age New York. Edwin, ruthlessly competitive and gifted, did everything he could to lock his younger brother out of the theatrical game. As he came of age, John Wilkes found his plans for stardom thwarted by his older sibling's meteoric rise. Their divergent paths—Edwin's an upward race to riches and social prominence, and John's a downward spiral into failure and obscurity—kept pace with the hardening of their opposite political views and their mutual dislike.

The details of the conspiracy to kill Lincoln have been well documented elsewhere. My Thoughts Be Bloody tells a new story, one that explains for the first time why Lincoln's assassin decided to conspire against the president in the first place, and sets that decision in the context of a bitterly divided family—and nation. By the end of this riveting journey, readers will see Abraham Lincoln's death less as the result of the war between the North and South and more as the climax of a dark struggle between two brothers who never wore the uniform of soldiers, except on stage.
About the Author
Nora Titone studied American History and Literature as an undergraduate at
Harvard
University
, and earned an M.A. in History at the
University
of
California
,
Berkeley
. She has worked as a historical researcher for a range of academics, writers and artists involved in projects about nineteenth-century America. She lives in
Chicago
and this is her first book.
Doris Kearns Goodwin's interest in leadership began more than half a century ago as a professor at Harvard. Her experiences working for Lyndon B. Johnson in the White House and later assisting him on his memoirs led to her bestselling
Lyndon Johnson and the American Dream
. She followed up with the Pulitzer Prize–winning
No Ordinary Time: Franklin & Eleanor Roosevelt: The Home Front in World War II
. She earned the Lincoln Prize for the runaway bestseller
Team of Rivals
, the basis for Steven Spielberg's Academy Award–winning film
Lincoln
, and the Carnegie Medal for
The Bully Pulpit
, the
New York Times
bestselling chronicle of the friendship between Theodore Roosevelt and William Howard Taft. She lives in Concord, Massachusetts. Visit her at DorisKearnsGoodwin.com or @DorisKGoodwin.
Praise For My Thoughts Be Bloody: The Bitter Rivalry That Led to the Assassination of Abraham Lincoln…
"Filled with ambition, rivalry, betrayal, and tragedy, this story of the celebrated Shakespearean actor Junius Brutus Booth and the two sons, Edwin and John Wilkes, who competed to wear his crown, is as gripping as a fine work of fiction. Yet, given the role that the younger son played in murdering President Abraham Lincoln, My Thoughts Be Bloody is simultaneously an important work of history—the best account I have ever read of the complex forces that led John Wilkes Booth to carry a gun into Ford's Theatre on April 14, 1865." --Doris Kearns Goodwin, author of Team of Rivals



Provocative and revealing, Titone's first book provides another dimension to an iconic national calamity by alleging that John Wilkes Booth assassinated Abraham Lincoln in part to establish his own importance within a family of theatrical rivals… Titone's theory adds to the narrative without dismissing the political and cultural reasons for Wilkes Booth's plot—his Confederate and proslavery sympathies have often been noted. She is most impressive in her use of primary sources and in her literary style."—Library Journal



Why did John Wilkes Booth do it? In My Thoughts Be Bloody young historian Nora Titone is one of the few to have genuinely explored this question. In doing so, she has crafted a fascinating psychological drama about one of the central events of the Civil War: the assassination of Abraham Lincoln. This book promises to stimulate lively historical debate, and will be a treat for every Civil War buff who always pondered that haunting question, "what made him pull that trigger?" Bravo on a marvelous achievement.
-- Jay Winik, author of April 1865 and The Great Upheaval



"The Booth family, like most involved with creative endeavors, produced brilliant eccentrics. What began as sibling rivalry transformed into something darker and deadly as national divisions became mirrored in family squabbles. How ironic that the greatest family of the American theatre produced the assassin of the greatest President who supported American theatre. For anyone wanting to know how this could happen, My Thoughts Be Bloody is the book to read."
--Tom Schwartz, Director of the Abraham Lincoln Presidential Library and Museum



"Nora Titone's energetic narrative persuades a reader that history must add to its indictment of Booth the crime of fratricide."
--Thomas Mallon, author of Henry and Clara



"This is narrative history at its most engaging and edifying: the forgotten story of a sibling rivalry, shot through with Shakespearean overtones, that played itself out tragically on the national stage. With the authority of a historian, and the dramatic talents of a novelist, Nora Titone has written a book full of surprises that will fundamentally change the way Americans think about John Wilkes Booth."
--Toby Lester, author of The Fourth Part of the World



"The new light [Titone] shines on the Booth family provides some compelling context for the Lincoln assassination."-- The Dallas Morning News



"Titone's riveting book - written with the authority of a historian and the twists and turns of a novelist - leads us to see Lincoln's killing, for the first time, through the crucible of bitter sibling rivalry...A great read." --Philadelphia Inquirer




"Titone uncovers a narrative as old as Cain and Abel. She also casts the nineteenth century's greatest True Crime story in a new light." --New England Quarterly Review