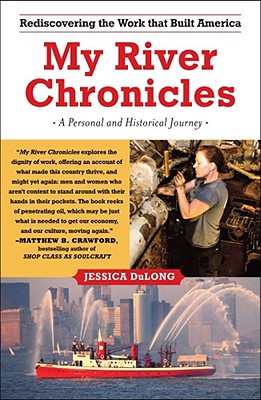 My River Chronicles
Rediscovering the Work that Built America; A Personal and Historical Journey
Paperback

* Individual store prices may vary.
Other Editions of This Title:
Digital Audiobook (11/1/2009)
MP3 CD (11/2/2009)
Compact Disc (11/2/2009)
Description
After journalist Jessica DuLong was laid off from her dot-com job, her life took an unexpected turn. A volunteer day aboard an antique fireboat, the John J. Harvey, led to a job in the engine room, where she found a taste of home she hadn't realized she was missing. Working with the boat's finely crafted machinery, on the waters of the storied Hudson, made her wonder what America is losing in our shift away from hands-on work. Her questions crystallized after she and her crew served at Ground Zero, where fireboats provided the only water available to fight blazes.

Vivid and immediate, My River Chronicles is a journey with an extraordinary guide—a mechanic's daughter and Stanford graduate who bridges blue-collar and white-collar worlds, turning a phrase as deftly as she does a wrench. As she searches for the meaning of work in America, DuLong shares her own experiences of learning to navigate a traditionally male world, masterfully interweaving unforgettable present-day characters and events with four centuries of Hudson River history.

A celebration of craftsmanship, My River Chronicles is a deeply personal story of a unique woman's discovery of her own roots—and America's—that raises important questions about our nation's future.
Praise For My River Chronicles: Rediscovering the Work that Built America; A Personal and Historical Journey…
"An unexpected portrayal of America in the decline of industry, delivered from the unique vantage point of the Hudson River. . . . [A]n eye-opening picture of what America has been . . . and what it is becoming. . . . Powerful." - Kirkus, starred review

"Jessica DuLong's elegantly written My River Chronicles brings the past of the Hudson River into the vivid present and carries forward the craft of literary non-fiction with grace and energy." - Gay Talese, author of A Writer's Life and Unto the Sons

"She details her often exhilarating experiences in her very fine and gutsy book. Ms. DuLong is a confident and sensual writer, as perceptive about small matters on a boat as was Anthony Bourdain, in Kitchen Confidential, about everyday events in a professional kitchen. . . . Readers will feel their own little yelps of glee all over My River Chronicles." - The New York Times ArtsBeat blog

"The engine room is, in DuLong's opinion, a tribute to an era of craftsmanship that is very nearly extinct." - The New Yorker

"Smart, captivating prose . . . [Readers] will love this unusual mix of history, adventure, feminism and blue-collar know-how. Highly recommended." - Library Journal

"When Jessica DuLong describes her work in the engine room of the John J. Harvey, you can practically feel the throb of the boat's mighty diesels. This is someone who has paid some dues, and it shows in the details. Her view through a narrow portal at the water line opens into a bigger picture of the Hudson River, the economy of New York, and the dignity of work - the kind of work that is genuinely useful. My River Chronicles is an account of what made this country thrive, and might yet again: men and women who aren't content to stand around with their hands in their pockets. The book reeks of penetrating oil, which may be just what is needed to get our economy, and our culture, moving again." - Matthew B. Crawford, author of Shop Class as Soulcraft: An Inquiry into the Value of Work

"In rich and captivating prose, Jessica DuLong kindly invites the rest of us on the journey of her lifetime: from a dot-com job to the fabled waters of the Hudson River, where she became a fireboat engineer. This is an unusual and fascinating book." - Jon Meacham, author of American Lion: Andrew Jackson in the White House and Franklin and Winston: An Intimate Portrait of an Epic Friendship

"As both a writer and an engineer, she's relentlessly, gratifyingly curious, and her fine, richly detailed prose holds an appeal regardless of your level of interest in heritage histories and engine mechanics. . . . [T]he whole book is so layered and compelling that the intensity of 9/11 doesn't overpower the slower, more meditative sections. . . . DuLong's passion for her craft is contagious, making My River Chronicles one of the most moving, unusual books I've read in a long time." - Bookslut

"Jessica DuLong is a lucky woman. She stumbled into an obscure world- the overheated engine room of an old fireboat - and discovered that she belonged there. Readers are lucky, too, because she has managed to translate her love affair with the water into a finely written and fascinating story about a lost American way of life." - Stefan Fatsis, author of Word Freak and A Few Seconds of Panic

"If you've ever wondered what we're missing by sitting at computers in cubicles all day, follow Jessica DuLong when she loses her desk job and embarks on this unlikely but fantastic voyage. Deeply original, riveting to read, and soul-bearingly honest, My River Chronicles is a surprisingly infectious romance about a young woman falling in love with a muscle-y old boat. As DuLong learns to navigate her way through a man's world of tools and engines, and across the swirling currents of a temperamental river, her book also becomes a love letter to a nation. In tune with the challenges of our times, DuLong reminds us of the skills and dedication that built America, and inspires us to renew ourselves once again." - Trevor Corson, author of The Story of Sushi and The Secret Life of Lobsters

"An engaging narrative." --The New York Times
Atria Books, 9781416586999, 320pp.
Publication Date: June 8, 2010
About the Author
Jessica DuLong, a U.S. Coast Guard-licensed Merchant Marine Officer, is one of the world's only female fireboat engineers. She's also a journalist whose work has appeared in Newsweek International, Rolling Stone, Psychology Today, CosmoGIRL!, Parenting, Today's Machining World, and Maritime Reporter & Engineering News, and other publications. Her passion for the Hudson River took shape at her post in the diesel exhaust-filled engine room of retired New York City Fireboat John J. Harvey, where temperatures climb to 130 degrees. The 1931 vessel, dubbed "Ambassador of the Hudson," now operates as a living museum, offering free public trips around New York Harbor and an annual whistle-stop tour up the Hudson River, with DuLong at the engine-room controls.
On September 11, 2001, Fireboat John J. Harvey was called out of retirement to pump water at the World Trade Center site. The John J. Harvey's civilian crew, including DuLong, pumped water alongside FDNY crews for four days. Later recognized in the Congressional Record for "ensuring constant smooth running of the engines" during her service in the days following the attacks, she was also immortalized as a character in Maira Kalman's award-winning children's book, FIREBOAT: The Heroic Adventures of the John J. Harvey, and featured in Ben Gibberd's New York Waters. DuLong's boating and writing worlds first collided with the publication of her essay "Below Decks" in the anthology Steady As She Goes: Women's Adventures At Sea (Seal Press, 2003)–a piece that was singled out in Publishers Weekly as "stylish" and a "high point" of the collection.
or
Not Currently Available for Direct Purchase