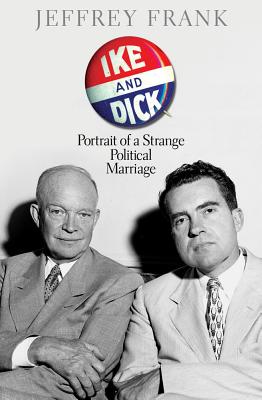 Ike and Dick
Portrait of a Strange Political Marriage
Hardcover

* Individual store prices may vary.
Other Editions of This Title:
Paperback (11/5/2013)
MP3 CD (2/5/2013)
Compact Disc (2/5/2013)
MP3 CD (2/5/2013)
Compact Disc (2/5/2013)
Compact Disc (2/5/2013)
Description
A groundbreaking narrative of the relationship between Dwight Eisenhower and Richard Nixon--from the politics that divided them to the marriage that united their families. Dwight D. Eisenhower and Richard Nixon had a political and private relationship that lasted nearly twenty years, a tie that survived hurtful slights, tense misunderstandings, and the distance between them in age and temperament. Yet the two men brought out the best and worst in each other, and their association had important consequences for their respective presidencies. In Ike and Dick, Jeffrey Frank rediscovers these two compelling figures with the sensitivity of a novelist and the discipline of a historian. He offers a fresh view of the younger Nixon as a striving tactician, as well as the ever more perplexing person that he became. He portrays Eisenhower, the legendary soldier, as a cold, even vain man with a warm smile whose sound instincts about war and peace far outpaced his understanding of the changes occurring in his own country. Eisenhower and Nixon shared striking characteristics: high intelligence, cunning, and an aversion to confrontation, especially with each other. Ike and Dick, informed by dozens of interviews and deep archival research, traces the path of their relationship in a dangerous world of recurring crises as Nixon's ambitions grew and Eisenhower was struck by a series of debilitating illnesses. And, as the 1968 election cycle approached and the war in Vietnam roiled the country, it shows why Eisenhower, mortally ill and despite his doubts, supported Nixon's final attempt to win the White House, a change influenced by a family matter: his grandson David's courtship of Nixon's daughter Julie--teenagers in love who understood the political stakes of their union.
Praise For Ike and Dick: Portrait of a Strange Political Marriage…
"Perhaps the most intriguing—and dysfunctional—political marriage in history was the one between the subjects of Jeffrey Frank's meticulously researched Ike and Dick….a highly engrossing political narrative that skillfully takes the reader through the twisted development of a strange relationship that would help shape America's foreign and domestic agenda for much of the 20th century."



"One of the best books ever written about Richard Nixon…. Ike and Dick shows how much life remains in artfully straightforward narrative history."

-Thomas Mallon, The New Yorker

"Ike and Dick is an elegant example of how pleasurable political history can be when written by a skilled teller of fictional tales who has a careful reporter's respect for facts. It is top-drawer as political history, unusually well written, and stuffed with forty pages of notes providing sources for an extraordinary variety of information. It is also an entertaining human tale of generational conflict, filled with the elements that enliven popular novels and soap operas."

-Russell Baker, The New York Review of Books


"Engrossing…worthwhile…. At the heart of Ike and Dick are marvelously cringe-inducing anecdotes that capture an awkward relationship that improved over time without ever truly blooming."

-The Wall Street Journal


"[A] rare and understatedly important book that suggests a subtle rethink, offering both the casual reader and the student of history a surprisingly candid and humane look at the national villain-in-chief, Richard Nixon. And just as significant, Frank helps to round out our portrait of Nixon's venerable political mentor, the equally wily and fickle President Dwight D. Eisenhower….[A] carefully argued and nuanced book."

-Charleston Post and Courier


"Jeffrey Frank is a nimble writer with a clear-eyed understanding of power….[Ike and Dick] reveals the nuances of the complex relationship between Nixon and the man under whom he served as vice president, Dwight Eisenhower, nuances that should resonate with Republicans who are waging an internecine struggle over the future of their party."

-The Miami Herald


"Jeffrey Frank knows a good story when he sees one, or sees two….Ambition and hesitation, intrigue and indifference, scheming and serenity, infuse 31 chapters. His saga evokes the seamy underside of the sunny 1950s…..[A] detailed and charming history."

-Martin F. Nolan, The San Francisco Chronicle


"This is superlative, compelling, can't-put-it-down history. Jeffrey Frank is an elegant writer, with a novelist's eye; the relationship between Eisenhower and Nixon, in all its complexity and weirdness, is a treasure chest that he unpacks brilliantly. This is the perfect time for us to reconsider the trajectory of the Republican Party in the late twentieth century, and this book is a perfect way to do it."

-Joe Klein, Time columnist


"To read this book is to be reminded of Richard Nixon's singularly tortured character in all its cussedness and genius—and to learn anew of Dwight Eisenhower's capacity for shrewd political cunning and often insouciant human coldness. Ike and Dick deeply textures our understanding of two outsized American personalities and the complex layers of their long and consequential relationship—and it's full of delicious gossip, too."

-David M. Kennedy, Pulitzer Prize-winning author of Freedom from Fear


"The mating of Dwight Eisenhower and Richard Nixon was one of the strangest and most fateful in all of American political history. With psychological acuity and perfect pitch for the not-so-distant past, Jeffrey Frank has captured the story beautifully. Ike and Dick will surprise and greatly entertain as well as enlighten you."

-Sean Wilentz, author of The Rise of American Democracy
Simon & Schuster, 9781416587019, 448pp.
Publication Date: February 5, 2013
or
Not Currently Available for Direct Purchase