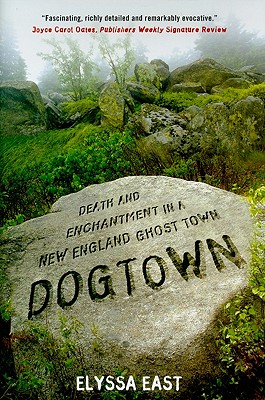 Dogtown (Hardcover)
Death and Enchantment in a New England Ghost Town
Free Press, 9781416587040, 304pp.
Publication Date: December 1, 2009
* Individual store prices may vary.
Description

In rich first-person narrative, Dogtown tells the strange, dark story of a wilderness ghost town that has enthralled artists, writers, and eccentrics--and of a brutal murder committed there. Documenting its history and lore, East explores the possibility that certain landscapes wield their own unique power.

The area known as Dogtown--an isolated colonial ruin and the surrounding 3,600-acre woodland in historic seaside Gloucester, Massachusetts--has always exerted a powerful influence over artists, writers, eccentrics, and nature lovers. But its history is woven through with tales of hallucinations, pirates, ghost sightings, witches, drifters, and violence. A 1984 murder there continues to loom large in Gloucester's collective psyche: a mentally disturbed local man crushed the skull of a schoolteacher as she walked the woods. In alternating chapters, East interlaces the story of this murder with Dogtown's bizarre history. The colonial settlement was a haven for former slaves, prostitutes, and witches until it was abandoned 180 years ago. Since then, Dogtown has inspired various people, including a millionaire who carved Protestant precepts into its boulders; the Modernist painter Marsden Hartley, whom Dogtown saved from a crippling depression; the drug-addled poet Charles Olson; a coven of witches that still holds ceremonies there today; and the murderer, who spent much of his life in Dogtown's woods. The murder tapped a vein of thinking that has quietly endured in Gloucester for centuries: some people rallied around Dogtown protectively, but others blamed it for the tragedy. In luminous, insightful prose, Dogtown tells an evocative tale of a community both haunted and bound together by its love of this strange, forgotten place and its denizens.
About the Author
Elyssa East's writing has appeared in numerous New England regional magazines. She received an M.F.A. in creative writing from Columbia University's School of the Arts, and lives in New York City.
Praise For Dogtown: Death and Enchantment in a New England Ghost Town…
"A MESMERIZING FUGUE of knife-edge true crime, deviant Yankee Americana, and historical evildoings. With an insider's authenticity, East commands a haunted haven where renowned American thinkers and artists seek hideout, and finds the brilliant pin dot on a mysterious American murder map, charting a community's bouts of wickedness for generations toward a spellbinding modern homicide. No other book captures our colonial ghost history with such chilly quirks, intimate lore, and fireworks. A pure original, East guides us through stunning supernatural gates into a bountiful wilderness." -- MARIA FLOOK, author of Invisible Eden



"This book is a wonder. I fell completely under its spell -- Elyssa East does not merely reupholster the old bones of Dogtown, she plunges you headlong into the green mystery of this place; I loved the looking-glass chill of opening her book and finding myself in another world entirely. Dogtown is true literary sorcery, a portal to one of the strangest places in America." -- KAREN RUSSELL, author of St. Lucy's Home for Girls Raised by Wolves



"Beautifully written, deftly told, and suspenseful to the very end -- a stunning work of reportage. A keenly observant writer with a painter's eye for detail, East explores the strange, hypnotic spell that Dogtown seems to cast upon all -- including herself -- who enter its woods. The result is a riveting and very personal book that both dazzles and unnerves." -- JULIE OTSUKA, author of When the Emperor Was Divine



"Elyssa East's narrative history of Dogtown, Massachusetts, is a fascinating book, sometimes strange, sometimes mystical, but always gripping. Her exploration of its dark, eccentric past begs the question: do certain mythic landscapes influence its inhabitants to do great good and, at times, to do great evil?" -- KATHLEEN KENT, author of The Heretic's Daughter
Book Videos
or
Not Currently Available for Direct Purchase