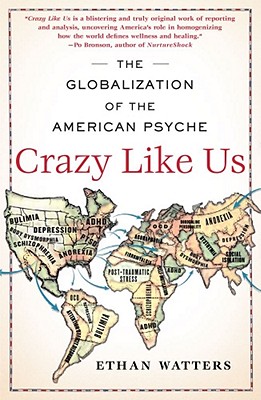 Crazy Like Us (Paperback)
The Globalization of the American Psyche
Free Press, 9781416587095, 320pp.
Publication Date: March 22, 2011
Other Editions of This Title:
Hardcover (1/12/2010)
MP3 CD (3/29/2016)
Compact Disc (3/29/2016)
Paperback (3/1/2011)
* Individual store prices may vary.
Description
The most devastating consequence of the spread of American culture across the globe has not been our golden arches or our bomb craters, but our bulldozing of the human psyche itself. American-style depression, post-traumatic stress disorder, and anorexia have begun to spread around the world like contagions, and the virus is us. Traveling from Hong Kong to Sri Lanka to Zanzibar to Japan, acclaimed journalist Ethan Watters witnesses firsthand how Western healers often steamroll indigenous expressions of mental health and madness and replace them with our own. In teaching the rest of the world to think like us, we have been homogenizing the way the world goes mad.
About the Author
Ethan Watters is the author of Urban Tribes, an examination of the mores of the "never-marrieds," and the coauthor of Making Monsters, a groundbreaking indictment of the recovered memory movement. A frequent contributor to The New York Times Magazine, Discover, Men's Journal, Wired, and This American Life, he lives in San Francisco with his wife and children.
Praise For Crazy Like Us: The Globalization of the American Psyche…
"Crazy Like Us is a blistering and truly original work of reporting and analysis, uncovering America's role in homogenizing how the world defines wellness and healing." -- Po Bronson, author of NurtureShock



"Ethan Watters has a truly original take on the way our country shapes the expression of mental illness around the globe. His is one of those books you can't stop thinking about or referring to in conversation, that permanently changes your perspective on beliefs you took for granted." -- Peggy Orenstein, author of Waiting for Daisy



"I couldn't put it down. Crazy Like Us is a fascinating and provocative intellectual travelogue, and Watters is a fearless guide." -- Alan Burdick, author of Out of Eden



"Ethan Watters has traveled the world to look at how globalization reaches far beyond economics and into people's very conceptions of what constitutes health and sanity. I find his book provocative, original, and convincing." -- Adam Hochschild, author of Bury the Chains and King Leopold's Ghost



"Searing, startling, and utterly unforgettable. Ethan Watters brilliantly surveys the stark interior cost of globalization, from our export of stress disorders to Sri Lanka to our marketing of depression in Japan as 'a cold of the soul.' Crazy Like Us is a grand tour of the new global psyche, distorted and darkened by the export of the American dream." -- Jason Roberts, National Book Critics Circle finalist for A Sense of the World



"A devastating account of America's psychological adventures abroad. The stories Watters tells will move you, surprise you, and occasionally infuriate you, and they will change the way you think about culture, human nature, and the mind." -- Paul Tough, author of Whatever it Takes


"...in addition to the cultural flotsam that drives the rest of the world crazy, America is literally exporting its mental illnesses...[Watters] is on to something worth pondering." --Time magazine


"Crazy Like Us is both groundbreaking and shocking...Whether Watters' book will be sand in the engines of the bulldozers remains to be seen. At least it proves the West, despite its best intentions, does not possess all the answers."--The Boston Globe



"In crisp journalistic style, Watters argues convincingly that what the American psychiatric industry exports is not so much drugs as diseases." --Mother Jones



"Watters commands attention with his repartee and conversational manner while drawing much-needed attention to the consequences of Western intrusion. This fascinating book deserves attention from mental health workers and Americans interested in the reach of their culture's psyche across the globe."-- Library Journal