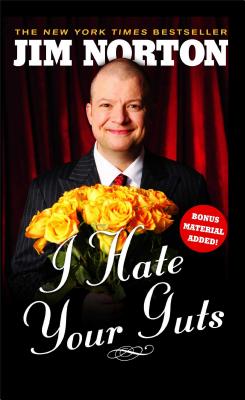 I Hate Your Guts (Paperback)
Gallery Books, 9781416587866, 288pp.
Publication Date: August 11, 2009
Description
This New York Times bestselling author may hate your guts, but you'll be laughing too hard to care in this blisteringly funny collection. What do Steve Martin, The Reverend Al Sharpton, and Dr. Phil have in common? Jim Norton hates their guts. In his deviant pseudo-memoir Happy Endings, Norton delivered his uncensored and controversial brand of humor on everything from his affinity for hookers to his romantic woes. Now, he unflinchingly spews his thoughts on everyone from the bully he despises from high school, to Hillary Clinton and Al Sharpton. Offensive, brutally honest, and most important, sidesplittingly hilarious, I Hate Your Guts features 35 essays showcasing the candid, outrageous brand of dirty comedy that has earned him legions of devoted fans both on the radio and on the road.
About the Author
Comedian Jim Norton is the third microphone on XM Radio's popular Opie and Anthony Show and New York Times bestselling author of Happy Endings. He recently starred in his own one-hour HBO comedy special Monster Rain and is the host of the new half-hour HBO comedy series, Down and Dirty with Jim Norton. He currently lives in New York City, where he is attempting to formulate a relationship with a woman that lasts for more than an hour.
Advertisement