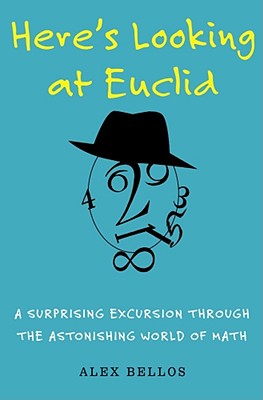 Here's Looking at Euclid
A Surprising Excursion Through the Astonishing World of Math
Hardcover

* Individual store prices may vary.
Other Editions of This Title:
Paperback (4/19/2011)
Description
Too often math gets a bad rap, characterized as dry and difficult. But, Alex Bellos says, "math can be inspiring and brilliantly creative. Mathematical thought is one of the great achievements of the human race, and arguably the foundation of all human progress. The world of mathematics is a remarkable place."

Bellos has traveled all around the globe and has plunged into history to uncover fascinating stories of mathematical achievement, from the breakthroughs of Euclid, the greatest mathematician of all time, to the creations of the Zen master of origami, one of the hottest areas of mathematical work today. Taking us into the wilds of the Amazon, he tells the story of a tribe there who can count only to five and reports on the latest findings about the math instinct—including the revelation that ants can actually count how many steps they've taken. Journeying to the Bay of Bengal, he interviews a Hindu sage about the brilliant mathematical insights of the Buddha, while in Japan he visits the godfather of Sudoku and introduces the brainteasing delights of mathematical games.

Exploring the mysteries of randomness, he explains why it is impossible for our iPods to truly randomly select songs. In probing the many intrigues of that most beloved of numbers, pi, he visits with two brothers so obsessed with the elusive number that they built a supercomputer in their Manhattan apartment to study it. Throughout, the journey is enhanced with a wealth of intriguing illustrations, such as of the clever puzzles known as tangrams and the crochet creation of an American math professor who suddenly realized one day that she could knit a representation of higher dimensional space that no one had been able to visualize.

Whether writing about how algebra solved Swedish traffic problems, visiting the Mental Calculation World Cup to disclose the secrets of lightning calculation, or exploring the links between pineapples and beautiful teeth, Bellos is a wonderfully engaging guide who never fails to delight even as he edifies. Here's Looking at Euclid is a rare gem that brings the beauty of math to life.
Praise For Here's Looking at Euclid: A Surprising Excursion Through the Astonishing World of Math…
"If there was one book that was going to be compulsory for the nation to read it would be this one."
— Judge Chair Evan Davis on the Samuel Johnson Prize Non-fiction Committee

"Alex Bellos's Here's Looking at Euclid is lodged smack in the center of the Garden of Delights, deep in the Enchanted Forest of the Treasure Island of mathematics. Through encounters with a huge gallery of fascinating characters, from the mystic Pythagoras, to the chimp Ayumu, the Godfather of Sudoku, mathemagician extraordinaire Martin Gardner, and many more, the author leads the way in an unforgetable journey of intellectual discovery, a true transcultural Magical Mystery Tour."
— Apostolos Doxiadis, author of Logicomix and Uncle Petros and Goldbach's Conjecture

"With humor and profound insights, and an emphasis on elegance and surprise, Alex Bellos has written a truly marvelous survey of modern mathematics. From the mysteries of numbers he plunges into startling aspects of geometry, probability, infinity, non-Euclidian geometry, statistics, origami, and a thousand other wonders of numberland. It is a book that would have delighted mathematician Lewis Carroll. It is a book that will similarly delight anyone tuned to what Bertrand Russell once called the "cold, austere beauty" of mathematics—an incredible region where, unlike fallible science, assertions are true forever and in all possible worlds."
— Martin Gardner, for more than 25 years, author of the "Mathematical Games" column in Scientific American

"Alex Bellos's enthusiasm for mathematics shines from every page. His exploration of mathematics deserves to become an instant classic, and may well do so. If you want to get anyone interested in math, yourself included, then this engaging series of encounters is just what you need."
— Ian Stewart, author of Professor Stewart's Cabinet of Mathematical Curiosities
Free Press, 9781416588252, 336pp.
Publication Date: June 15, 2010
About the Author
Alex Bellos has a degree in Mathematics and Philosophy from Oxford University. Curator-in-residence at the Science Museum and the Guardian's math blogger, he has worked in London and Rio de Janeiro, where he was the paper's unusually numerate foreign correspondent. In 2002 he wrote Futebol, a critically acclaimed book about Brazilian football, and in 2006 he ghostwrote Pelé's autobiography, which was a number one bestseller. Here's Looking at Euclid was shortlisted for the BBC Samuel Johnson Prize and was a Sunday Times bestseller for more than four months.
or
Not Currently Available for Direct Purchase