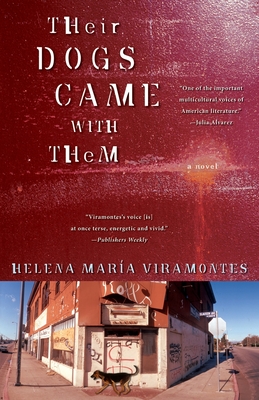 Their Dogs Came with Them
A Novel
Paperback

* Individual store prices may vary.
Description
Helena Maria Viramontes brings 1960s Los Angeles to life with "terse, energetic, and vivid" (Publishers Weekly) prose in this story of a group of young Latinx women fighting to survive and thrive in a tumultuous world.

Award-winning author of Under the Feet of Jesus, Helena María Viramontes offers a profoundly gritty portrait of everyday life in L.A. in this lyrically muscular, artfully crafted novel.

In the barrio of East Los Angeles, a group of unbreakable young women struggle to find their way through the turbulent urban landscape of the 1960s. Androgynous Turtle is a homeless gang member. Ana devotes herself to a mentally ill brother. Ermila is a teenager poised between childhood and political consciousness. And Tranquilina, the daughter of missionaries, finds hope in faith. In prose that is potent and street tough, Viramontes has choreographed a tragic dance of death and rebirth. Julia Alvarez has called Viramontes "one of the important multicultural voices of American literature." Their Dogs Came with Them further proves the depth and talent of this essential author.
Praise For Their Dogs Came with Them: A Novel…
"The novel will no doubt -- like her other work -- break ground and enrich the range and vision of our American literature. I hope you, too, will feel the enthusiasm and faith in her work that I do." -- Julia Alvarez

"Helena María Viramontes's power is in her heartfelt observations about the forgotten poor. Not simply the poor, I mean the despised and reviled: the homeless, the immigrant, the cholas and cholos. This novel takes flight in its accurate portrayal of its characters' language and landscape. She is as compassionate as John Steinbeck, as sweeping as the unflinching camera of Sebastião Salgado." -- Sandra Cisneros, author of Caramelo and The House on Mango Street

"Their Dogs Came with Them is a book that is upon you before you know it and once read cannot be shaken. A bravura performance by one of our country's finest talents. Extraordinary." -- Junot Díaz, author of Drown

"Written with an honesty and compassion that is lacking in our time, Their Dogs Came with Them illuminates a people and place where hopes arise and are defeated, only to arise again. With elegance and poetic precision, Helena María Viramontes has captured a humanity that will not stay down, no matter what the odds. Like the characters in this novel, her prose is a warm breath of the real thing." -- Ernesto Quiñonez, author of Chango's Fire

"Viramontes's voice [is] at once terse, energetic and vivid." -- Publishers Weekly

"A vibrant portrait of a violent street culture." -- Booklist
Atria Books, 9781416588344, 336pp.
Publication Date: October 21, 2008
About the Author
Helena María Viramontes is the acclaimed author of The Moths and Other Stories and Under the Feet of Jesus; and the coeditor of two collections: Chicana (W)Rites: On Word and Film and Chicana Creativity and Criticism. She is the recipient of the 2006 Luis Leal Award and the John Dos Passos Award for Literature, and her short stories and essays have been widely anthologized and adopted for classroom use and university study. Viramontes lives in Ithaca, New York, where she is a professor in the Department of English at Cornell University.