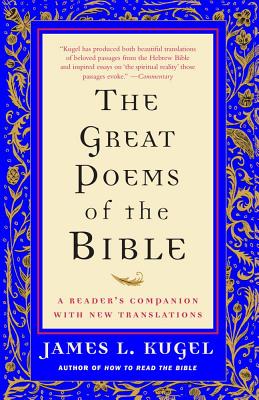 The Great Poems of the Bible
A Reader's Companion with New Translations
Paperback

* Individual store prices may vary.
Description
In The Great Poems of the Bible, James Kugel, acclaimed Harvard scholar and former poetry editor of Harpers Magazine, selects eighteen essential poems from the Hebrew Bible and offers his own original and articulate translations of these core pieces of religious literature. His eloquent renditions are paired with deeply informed discussions about the conditions surrounding each poem, including its history and whatÊthe best religious scholarship and literary criticism tell us about how the poem should be understood. Kugel explains traditions, clarifies often-misunderstood language, and offers readers wonderfully insightful explanations that are indispensable to understanding the poems and, ultimately, the fundamental teachings of the Old Testament.
Praise For The Great Poems of the Bible: A Reader's Companion with New Translations…
"Mr. Kugel's commentaries... are marvelous -- fresh, original, deeply thought, deeply felt. They are the responses to the Bible of a scholar who, far more than just a scholar, is above all a reader and knows that, even more than knowledge, taste, and discrimination, the most important thing to bring to a text is oneself: not a part of oneself, but the whole, entirely focused and entirely open, ready to give and take all. To be more able to read in this way is a rare gift, and Mr. Kugel, who can also write, has it." -- The Forward

"This fascinating book includes familiar texts like Psalms 23 and 137, and Ecclesiastes 12, as well as some that are less well known to modern readers. Throughout, James Kugel's linguistic and historical learning, modern literary sensibility, love of poetry in all languages, and special commitment to biblical interpretation frame this exciting examination of the power and energetic meaning of the great writing of the Hebrew Bible." -- John Hollander, coeditor of The Best American Poetry 1998 and winner of the Bollingen Prize in Poetry

"Kugel has produced both beautiful translations of beloved passages from the Hebrew Bible and inspired essays on 'the spiritual reality' those passages evoke." -- Commentary
Free Press, 9781416589020, 352pp.
Publication Date: October 21, 2008
About the Author
James L. Kugel served as the Starr Professor of Hebrew at Harvard from 1982 to 2003, where his course on the Bible was regularly one of the most popular on campus, enrolling more than nine hundred students. A specialist in the Hebrew Bible and its interpretation, he now lives in Jerusalem. His recent books include The God of Old, In the Valley of the Shadow and the forthcoming The Great Change.