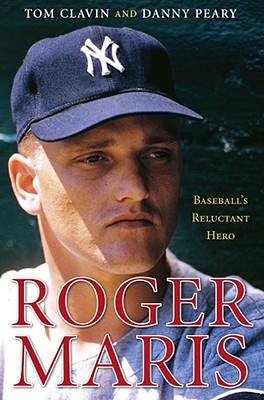 Roger Maris
Baseball's Reluctant Hero
Hardcover

* Individual store prices may vary.
Other Editions of This Title:
Paperback (5/10/2011)
Description
The definitive biography of the baseball legend who broke Babe Ruth's single-season home-run record—the natural way—and withstood a firestorm of media criticism to become one of his era's preeminent players.
ROGER MARIS may be the greatest ballplayer no one really knows. In 1961, the soft-spoken man from the frozen plains of North Dakota enjoyed one of the most amazing seasons in baseball history, when he outslugged his teammate Mickey Mantle to become the game's natural home-run king. It was Mantle himself who said, "Roger was as good a man and as good a ballplayer as there ever was." Yet Maris was vilified by fans and the press and has never received his due from biographers—until now.
Tom Clavin and Danny Peary trace the dramatic arc of Maris's life, from his boyhood in Fargo through his early pro career in the Cleveland Indians farm program, to his World Series championship years in New York and beyond. At the center is the exciting story of the 1961 season and the ordeal Maris endured as an outsider in Yankee pinstripes, unloved by fans who compared him unfavorably to their heroes Ruth and Mantle, relentlessly attacked by an aggressive press corps who found him cold and inaccessible, and treated miserably by the organization. After the tremendous challenge of breaking Ruth's record was behind him, Maris ultimately regained his love of baseball as a member of the world champion St. Louis Cardinals. And over time, he gained redemption in the eyes of the Yankee faithful.
With research drawn from more than 130 interviews with Maris's teammates, opponents, family, and friends, as well as 16 pages of photos, some of which have never before been seen, this timely and poignant biography sheds light on an iconic figure from baseball's golden era—and establishes the importance of his role in the game's history.
Praise For Roger Maris: Baseball's Reluctant Hero…
" This is a wonderful, definitive biography. What an extraordinary, misunderstood life of a true American hero who didn't want to be one. This is a remarkable work that belongs in every baseball fan's house."—LARRY KING



"The authors paint a splendid portrait of the Roger Maris I knew very well and the Roger Maris I wish I knew better."—TIM McCARVER, 21-year major leaguer and Emmy-winning FOX baseball analyst



"The amazing thing about the man who broke Babe Ruth's record was how little he resembled Babe Ruth. Introverted, troubled, shy, Roger Maris was more like a next-door neighbor than any home-run king, any Sultan of Swat. His struggles to wear the heavy overcoat of fame and notoriety are fascinating. Tom Clavin and Danny Peary show us why it didn't fit. Terrific work."—LEIGH MONTVILLE, author of the national bestseller The Big Bam: The Life and Times of Babe Ruth



"Forty-nine years later, Roger Maris remains the authentic single-season home-run king. Perhaps too little, certainly too late in recent years, he has been venerated and vindicated. Better yet, in these pages, he is appreciated."—BOB COSTAS



"Here, finally, is the book that Roger Maris deserved. With deep and dogged reporting, Tom Clavin and Danny Peary have done more than rescue his reputation. In this definitive portrait, Maris acquires a meaning beyond the home-run record. He's forced to straddle a fault line in American culture, one that separates the stoic from the glib, and authentic heroes from those merely famous. This is fine and fascinating stuff."—MARK KRIEGEL, columnist for FOXSports.com, author of Pistol: The Life of Pete Maravich and Namath: A Biography
Touchstone, 9781416589280, 432pp.
Publication Date: March 16, 2010
or
Not Currently Available for Direct Purchase