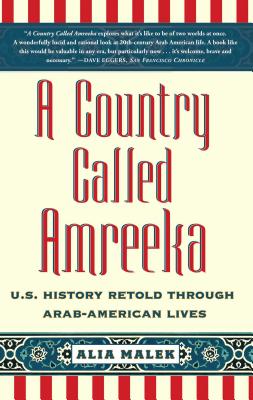 A Country Called Amreeka (Paperback)
Arab Roots, American Stories
Free Press, 9781416589754, 305pp.
Publication Date: October 26, 2010
* Individual store prices may vary.
Description
The history of Arab settlement in the United States stretches back nearly as far as the history of America itself. For the first time, Alia Malek brings this history to life. In each of eleven spellbinding chapters, she inhabits the voice and life of one Arab American, at one time-stopping historical moment. Separately, the chapters in A Country Called Amreeka transport us; together, they offer a vital piece of the mosaic of our American history and a fresh, urgent, and exciting perspective on a teeming community whom it has become essential for us to understand.
Praise For A Country Called Amreeka: Arab Roots, American Stories…
"Like President Obama's first book, A Country Called Amreeka explores what it's like to be of two worlds at once…A wonderfully lucid and rational look at 20th century Arab American life. A book like this would be valuable in any era, but particularly now…it's welcome, brave and necessary." --Dave Eggers, The San Francisco Chronicle



"...[Fills a] gap in our collective understanding of our own history...a worthwhile read. Richly told and beautifully written, [a] valuable contribution to the American story."—Political Affairs Magazine



"...Malek deftly illuminates the individual and collective lives of Arab-Americans in the U.S.." —Kelly Kennedy, Army Times



"Alia Malek's impassioned and harrowing set of profiles of Arab-Americans gives vitality and resonance to a cause that is dear to my heart: fostering cross-cultural understanding and respect. Infectiously readable, the profiles in A Country Called Amreeka add character and texture to the history of the Arab-American community, challenging every tired stereotype and giving us new insight into what it means to be an Arab-American today. This book gives us the faces behind the names, and tells the story of a community that both enriches and embraces the American fabric. A Country Called Amreeka, and the Americans who inhabit it, are remarkable."
--Her Majesty Queen Noor of Jordan, author of A Leap of Faith: Memoir of an Unexpected Life



"[A] superb snapshot of the Americans of Arab-speaking descent. [Malek has] a remarkable ability to capture her subjects' voices...An excellent book, one certain to put right some of the wrongs it catalogues."—Publishers Weekly (starred review)



"Malek brings powerfully into focus...the story of the relationship between America and its Arab Americans. As the book progresses through time, a bigger story begins to emerge...An incredible journey." — Christian Science Monitor
or
Not Currently Available for Direct Purchase