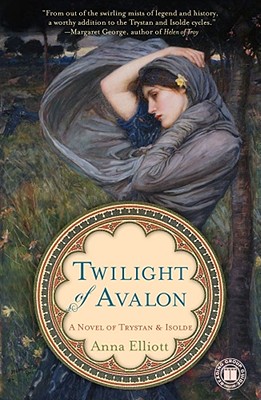 Twilight of Avalon
A Novel of Trystan & Isolde
Paperback

* Individual store prices may vary.
Description
She is a healer, a storyteller, a warrior, and a queen without a throne. In the shadow of King Arthur's Britain, one woman knows the truth that could save a kingdom from the hands of a tyrant...
Ancient grudges, old wounds, and the quest for power rule in the newly widowed Queen Isolde's court. Hardly a generation after the downfall of Camelot, Isolde grieves for her slain husband, King Constantine, a man she secretly knows to have been murdered by the scheming Lord Marche -- the man who has just assumed his title as High King. Though her skills as a healer are renowned throughout the kingdom, in the wake of Con's death, accusations of witchcraft and sorcery threaten her freedom and her ability to bring Marche to justice. Burdened by their suspicion and her own grief, Isolde must conquer the court's distrust and superstition to protect her throne and the future of Britain.
One of her few allies is Trystan, a prisoner with a lonely and troubled past. Neither Saxon nor Briton, he is unmoved by the political scheming, rumors, and accusations swirling around the fair queen. Together they escape, and as their companionship turns from friendship to love, they must find a way to prove what they know to be true -- that Marche's deceptions threaten not only their lives but the sovereignty of the British kingdom.
In Twilight of Avalon, Anna Elliott returns to the roots of the legend of Trystan and Isolde to shape a very different story -- one based in the earliest written versions of the Arthurian tales -- a captivating epic brimming with historic authenticity, sweeping romance, and the powerful magic of legend.
Praise For Twilight of Avalon: A Novel of Trystan & Isolde…
"From out of the swirling mists of legend and history, a worthy addition to the Trystan and Isolde cycles." -- Margaret George, author of Helen of Troy

"Anna Elliott takes the aerie-fairy out of the fabled Arthurian tale of Trystan and Isolde, and gives us a very plausible version. Our heroine has the spunk of a woman of our era, and this Isolde is one we can all admire and aspire to." -- Anne Easter Smith, author of The King's Grace and Daughter of York

"Elliott's reworking of a timeworn medieval tale reinvigorates the celebrated romance between Trystan and Isolde...Fans of the many Arthurian cycles will relish this appropriately fantastical offshoot of the Arthurian legend." -- Booklist

"Unique and delightful...a most promising first novel filled with passion, courage, and timeless magic." -- Library Journal
Touchstone, 9781416589891, 448pp.
Publication Date: May 5, 2009
About the Author
A long time devotee of historical fiction and fantasy, Anna Elliott lives in the DC Metro area with her husband and two daughters. She is the author of
Twilight of Avalon
and
Dark Moon of Avalon
, the first two books in the Twilight of Avalon trilogy. Visit her at
www.annaelliottbooks.com
.