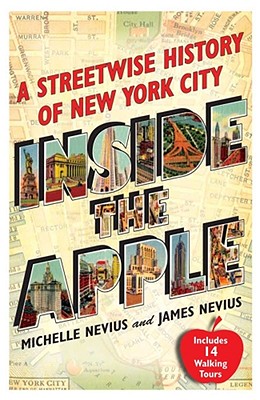 Inside the Apple
A Streetwise History of New York City
Paperback

* Individual store prices may vary.
Description
How much do you actually know about New York City? Did you know they tried to anchor Zeppelins at the top of the Empire State Building? Or that the high-rent district of Park Avenue was once so dangerous it was called "Death Avenue"? Lively and comprehensive, Inside the Apple brings to life New York's fascinating past. This narrative history of New York City is the first to offer practical walking tour know-how. Fast-paced but thorough, its bite-size chapters each focus on an event, person, or place of historical significance. Rich in anecdotes and illustrations, it whisks readers from colonial New Amsterdam through Manhattan's past, right up to post-9/11 New York. The book also works as a historical walking-tour guide, with 14 self-guided tours, maps, and step-by-step directions. Easy to carry with you as you explore the city, Inside the Apple allows you to visit the site of every story it tells. This energetic, wide-ranging, and often humorous book covers New York's most important historical moments, but is always anchored in the city of today.
Praise For Inside the Apple: A Streetwise History of New York City…
"I was born in New York and lived there for years, but I had no idea what I was missing until I picked up Inside the Apple. It's jammed with fascinating pieces of history and great nuggets of trivia. I can't wait to walk Manhattan again with this book in hand." -- Noah D. Oppenheim, coauthor of the bestselling The Intellectual Devotional™ series



"As a longtime New Yorker, I never tire of walking the streets and uncovering something new about the world's most fascinating city, where every street has a story to tell. Inside the Apple is a gem of a book, filled with nuggets about New York's extraordinary past, from the sidewalks up. Whether you are a tourist exploring for the very first time or a seasoned walker in the city, this book is a must." -- Kenneth C. Davis, author of the bestsellers America's Hidden History and Don't Know Much About® History
Free Press, 9781416589976, 384pp.
Publication Date: March 24, 2009