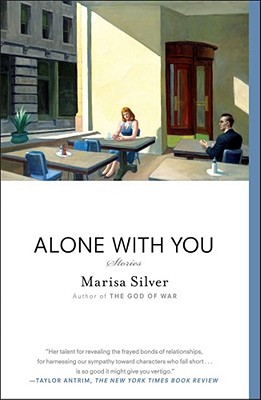 Alone with You
Stories
Paperback

* Individual store prices may vary.
Other Editions of This Title:
Hardcover (4/13/2010)
Description
Following her acclaimed, Los Angeles Times Book Prize-nominated novel, The God of War, Marisa Silver's extraordinary book, Alone With You, is a starkly elegant and superbly rendered collection of short stories. Marisa Silver dazzled and inspired readers with her critically acclaimed The God of War (a Los Angeles Times Book Prize finalist), praised by Richard Russo as "a novel of great metaphorical depth and beauty." In this elegant, finely wrought new collection, Alone With You, Silver has created eight indelible stories that mine the complexities of modern relationships and the unexpected ways love manifests itself. Her brilliantly etched characters confront life's abrupt and unsettling changes with fear, courage, humor, and overwhelming grace. In the O. Henry Prize-winning story "The Visitor," a VA hospital nurse's aide contends with a family ghost and discovers the ways in which her own past haunts her. The reticent father in "Pond" is confronted with a Solomonic choice that pits his love for his daughter against his feelings for her young son. In "Night Train to Frankfurt," first published in The New Yorker, a daughter travels to an alternative-medicine clinic in Germany in a gambit to save her mother's life. And in the title story, a woman vacations in Morocco with her family while contemplating a decision that will both ruin and liberate them all. From "Temporary," where a young woman confronts the ephemeral nature of companionship, to "Three Girls," in which sisters trapped in a snowstorm recognize the boundaries of childhood, the nuanced voices of Alone With You bear the hallmarks of an instant classic from a writer with unerring talent and imaginative resource. Silver has the extraordinary ability to render her fictional inhabitants instantly relatable, in all their imperfections. Her stories have the singular quality of looking in a mirror. We see at once what is familiar and what is strange. In these stirring narratives, we meet ourselves anew.
Praise For Alone with You: Stories…
"Alone With You, a collection of wondrous stories by Marisa Silver, will endure. Each story shatters the commonplace with the telling detail that evokes crucial events in human lives. She is a real writer; the breath of life infuses her work." —Paula Fox, Newbery Medal-winning novelist and author of Borrowed Finery: A Memoir



"Alone with You offers eight extraordinary portraits of life's tender humiliations as well as its sharp, rude jolts. Marisa Silver's virtuosic range seems endless, and yet her ear and heart are in each case mining for a precise kind of undoing: when the fog suddenly lifts and people manage stark contact with themselves, if only for a fleeting moment. These moments are brought to bear with deftness, compassion, and an eerie, unflinching grace." —Rachel Kushner, author of Telex From Cuba



"Marisa Silver's Alone With You is a triumph for the short story. Funny and surprising and unsentimental, the collection finds in dark situations a persuasive hope. Every story is striking both in its emotional complexity, and in the wry clarity with which it's told." —Maile Meloy, author of Both Ways Is the Only Way I Want It



"What makes Marisa Silver's portraits of contemporary American life so powerful is her unblinking gaze, her willingness to look imminent disaster straight in the eye. And what makes her characters unforgettable is the combination of bewilderment and resilience with which they navigate this precarious life. Alone With You is a beautiful collection: urgent, clear-sighted, wide-ranging, profound." —Sarah Shun-lien Bynum, author of Ms. Hempel Chronicles



"[In] Alone With You, Marisa Silver explores the impact of collateral damage, whether sustained in war or life….brisk and keenly observed…Silver's characters manage somehow to emerge as credible realists, unafraid of the rigors of making do. Even in the darkest moments, their stories are illuminating as they find the courage to face who they are." —Jane Ciabattari, O, The Oprah Magazine



"Longing swells each of the eight stories in Alone With You, as Silver investigates 'aloneness' and the dear and inevitable distance between people in loving relationships. These stories stand out because of their high tolerance for complexity, never opting for a single note. The situations here don't settle on the neat broad themes of loss or connection, but there are always surprises, nuances, changes of heart." —Ron Carlson, Los Angeles Times



"Marisa Silver tells eight quietly haunting tales about love, memory and making ends meet." —The Wall Street Journal



"The stories in Alone With You are portraits of everyday sorrows, but Silver keeps hope alive, even when it's on life support. Her characters often feel powerless, then discover what they can do….Silver makes clear with devastating simplicity, that tendency to change course works to our advantage…and passes it along to her characters with grace and insight as they grapple with change, revelation and the complexities of modern life. These are clear-eyed, unsentimental stories that resound with resilience." —Connie Ogle, miamiherald.com/"Between the Covers" book blog



"[E]ight beautiful and brutal stories...finely wrought...Silver infuses her characters with a fatalistic resilience that's revealed through tiny, perfect details." —Publishers Weekly, starred review
Simon & Schuster, 9781416590309, 176pp.
Publication Date: April 5, 2011
or
Not Currently Available for Direct Purchase