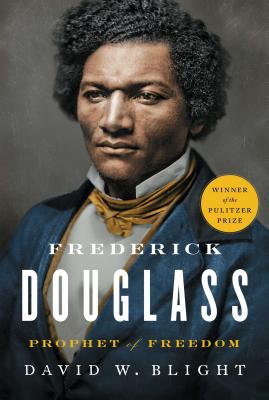 Frederick Douglass
Prophet of Freedom
Hardcover

* Individual store prices may vary.
Other Editions of This Title:
Digital Audiobook (10/15/2018)
Paperback (1/7/2020)
Compact Disc (10/16/2018)
Description
**Winner of the Pulitzer Prize in History**

"Extraordinary…a great American biography" (The New Yorker) of the most important African-American of the nineteenth century: Frederick Douglass, the escaped slave who became the greatest orator of his day and one of the leading abolitionists and writers of the era.

As a young man Frederick Douglass (1818–1895) escaped from slavery in Baltimore, Maryland. He was fortunate to have been taught to read by his slave owner mistress, and he would go on to become one of the major literary figures of his time. His very existence gave the lie to slave owners: with dignity and great intelligence he bore witness to the brutality of slavery.

Initially mentored by William Lloyd Garrison, Douglass spoke widely, using his own story to condemn slavery. By the Civil War, Douglass had become the most famed and widely travelled orator in the nation. In his unique and eloquent voice, written and spoken, Douglass was a fierce critic of the United States as well as a radical patriot. After the war he sometimes argued politically with younger African Americans, but he never forsook either the Republican party or the cause of black civil and political rights.

In this "cinematic and deeply engaging" (The New York Times Book Review) biography, David Blight has drawn on new information held in a private collection that few other historian have consulted, as well as recently discovered issues of Douglass's newspapers. "Absorbing and even moving…a brilliant book that speaks to our own time as well as Douglass's" (The Wall Street Journal), Blight's biography tells the fascinating story of Douglass's two marriages and his complex extended family. "David Blight has written the definitive biography of Frederick Douglass…a powerful portrait of one of the most important American voices of the nineteenth century" (The Boston Globe).

In addition to the Pulitzer Prize, Frederick Douglass won the Bancroft, Parkman, Los Angeles Times (biography), Lincoln, Plutarch, and Christopher awards and was named one of the Best Books of 2018 by The New York Times Book Review, The Wall Street Journal, The Boston Globe, The Chicago Tribune, The San Francisco Chronicle, and Time.
Praise For Frederick Douglass: Prophet of Freedom…
"Cinematic and deeply engaging. . . . a tour de force of storytelling."
— Brent Staples

"Absorbing and even moving . . . Mr. Blight displays his lifelong interest in Douglass on almost every page, and his own voice is active and eloquent throughout the narrative. It is a book that speaks to our own time as well as Douglass's. . . . A brilliant book."
— John Stauffer

"The first major biography of Douglass in nearly three decades. . . . Blight isn't looking to overturn our understanding of Douglass, whose courage and achievements were unequivocal, but to complicate it — a measure by which this ambitious and empathetic biography resoundingly succeeds."
— Jennifer Szalai

"Extraordinary. . . . Blight has certainly written, in the book's texture and density and narrative flow—one violent and provocative incident arriving right after another—a great American biography."
— Adam Gopnik

"A consistently engrossing book that is likely to remain the definitive account of Douglass's life for many years to come."
— Eric Foner

"A stunning achievement. Blight captures an icon in full humanity. From riveting drama in slavery and Civil War, his Douglass rises into clairvoyant genius on the blinkered centrality of race in our struggle for freedom."
— Taylor Branch, Pulitzer Prize-winning author of America in the King Years

"Extraordinary. . . . In Blight's pages, [Douglass's] voice again rings out loud and clear, melancholy and triumphant — still prophesying, still agitating, still calling us to action."
— Adam Goodheart

"David Blight has written the definitive biography of Frederick Douglass. With extraordinary detail he illuminates the complexities of Douglass's life and career and paints a powerful portrait of one of the most important American voices of the 19th century. . . . The resulting chronicle enriches our understanding of Douglass and the challenges he faced and offers a lesson for our own troubled times. . . . Magisterial."
— Eddie S. Glaude, Jr.

"David Blight's incandescent Frederick Douglass is a monumental achievement of biographical empathy, historical context, and grim comprehensiveness, a much-awaited masterpiece of a life that emblematized slavery as the problem of the 19th century, as was race that of Du Bois's 20th, the legacy of both the problem of our 21st century."
— David Levering Lewis, Pulitzer Prize-winning author of W.E.B. Du Bois: The Biography of a Race, 1868-1919

"Frederick Douglass: Prophet of Freedom is a triumph—elegantly written, with much new material about one of the most famous and important men in modern history. David Blight has created a vibrant and convincing portrait of a towering figure who was also, Blight says, 'thoroughly and beautifully human.' A great American gets the stellar biography he deserves from one our country's greatest historians."
— Annette Gordon-Reed, Pulitzer Prize-winning author of The Hemingses of Monticello: An American Family

"This much-anticipated biography of the foremost black leader and one of the greatest Americans of the nineteenth century fully lives up to and even exceeds high expectations. It is a work not only of stunning scholarship but also of literary artistry. David Blight's—and Frederick Douglass's—achievements have immeasurably enriched our understanding of slavery, abolitionism, the Civil War, and Reconstruction."
— James M. McPherson, Pulitzer Prize-winning author of Battle Cry of Freedom: The Civil War Era

"Brilliant and compassionate. . . . Blight's Douglass is an unapologetic prophet and radical, and the eloquent voice of this 'sacred extremist' has never been more relevant. A must-read."
— Booklist (starred review)

"Superbly written. . . . Blight viscerally captures the vitality, strength, and determination of his subject. . . . [He] delivers what is sure to be considered the standard-bearer for years to come. A masterful, comprehensive biography."
— Kirkus Reviews (starred review)

"A masterful, comprehensive biography such as Mr. Blight's is particularly welcome in times such as these, when politicians such as the president are gleefully stoking the same racial divisions that Mr. Douglass spent his life trying to extinguish."


— Greg Barnhisel

"David W. Blight brilliantly captures this legendary figure and his times in the magnificent Frederick Douglass: Prophet of Freedom, one of the best biographies of recent years. Blight's portrait of Douglass is engrossing, moving, nuanced, frightening—and certainly thought-provoking."
— BookPage

"David Blight brilliantly illustrates both the perils and possibilities of our national history through a rich and humane portrait of a man and his times. This is a remarkable book about a remarkable American and his enduring impact."
— Drew Gilpin Faust, former president, Harvard University, and author of This Republic of Suffering: Death and the American Civil War

"No American of his generation did more than Douglass, both in word and deed, to propel his people, and the nation, toward a reckoning with its original sin. Now he is brought vividly and delightfully to life once more in the flesh and bones of this masterful biography by one of our greatest historians. Frederick Douglass: Prophet of Freedom is a monumental achievement, a must-read for anyone charting the history of a democracy when it is most severely under attack."
— Henry Louis Gates, Jr., Alphonse Fletcher University Professor, Harvard University

"Meticulously detailed. . . . . The Douglass who emerges from this massive work is not always heroic, or even likable, but Blight illuminates his personal struggles and achievements to emphasize what an extraordinary person he was."
— Publishers Weekly (starred review)

"A monumental book, a definitive biography, rich with the biblical cadences that filled Douglass' life and imagination."
— John S. Gardner

"Blight's opus manages to be both a celebration of a remarkable life and a sober reminder of the many ways in which our terrible times are shaped by those Douglass lived through. In so many ways, the central questions then are the central questions now."
— Terence Samuel

"This magnum opus surpasses previous singular biographies . . . an essential text for students and educators seeking to understand Douglass's complex and expansive narrative."
— Library Journal (starred review)

"With the lucid prose and in-depth research that have been a hallmark of his long and distinguished career, Blight has written the definitive biography of one of the great reformers in American history. Blight beautifully treats Douglass' public career and complex private life, creating a detailed tapestry that allows readers to see the inner Douglass."


— Erik Chaput
Simon & Schuster, 9781416590316, 912pp.
Publication Date: October 16, 2018
About the Author
David W. Blight is the Sterling Professor of History and Director of the Gilder Lehrman Center for the Study of Slavery, Resistance, and Abolition at Yale University. He is the author or editor of a dozen books, including American Oracle: The Civil War in the Civil Rights Era; and Race and Reunion: The Civil War in American Memory; and annotated editions of Douglass's first two autobiographies. He has worked on Douglass much of his professional life, and been awarded the Bancroft Prize, the Abraham Lincoln Prize, and the Frederick Douglass Prize, among others.
Coverage from NPR