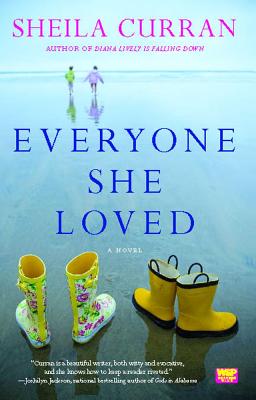 Everyone She Loved (Wsp Readers Club) (Paperback)
Washington Square Press, 9781416590675, 411pp.
Publication Date: March 16, 2010
Other Editions of This Title:
Hardcover (6/16/2009)
* Individual store prices may vary.
Description
A wise and triumphant novel about four women who've come of age together only to discover that--when it comes to the essentials--life's little instruction book will always need revising. Penelope Cameron has convinced her husband and four closest friends to sign an outlandish pact. If she should die before her two daughters are eighteen, her husband will not remarry without the permission of Penelope's sister and three college roommates. For years, this contract gathers dust until the unthinkable happens--a disaster that only lovable, worrisome Penelope could have predicted--and everyone she loved is left in a world without her. With the help of Penelope's friends, her husband and children slowly build new lives. But just when things start to come together, the fragile serenity they have gained is suddenly threatened from within, and the unbreakable bonds they share seem likely to dissolve after all. Entertaining and uplifting, Everyone She Loved explores the faith one woman placed in those she held dearest, the care she took to protect her family, the many ways in which romantic entanglements will confound and confuse even the most determined of planners, but above all, the abiding strength of friendship.
Praise For Everyone She Loved (Wsp Readers Club)…
"Curran is a beautiful writer, both witty and evocative, and she knows how to keep a reader riveted. I was up way past my bedtime, unable to stop turning pages. I had to know what happened to this family. Read this book, then pass it on to your dearest friend. She'll thank you." -- Joshilyn Jackson, bestselling author of Gods in Alabama and Between, Georgia
Even though she is young and healthy, Penelope has a premonition that her life will be cut short. With this in mind, she makes her family and friends sign a document that prevents her husband Joey from marrying "the wrong woman"; her sister and friends must approve of his marriage. Do you agree with Penelope's actions? Do you think it is fair to Joey to have his future determined by his wife's sister and her friends?
What did Lucy sacrifice in her friendship with Penelope? Did Penelope give Lucy anything in return, either tangible or emotional? Do you agree with Lucy's decision to repress her feelings for Joey?
As the story opens, everyone is worried about Tessa's weight and her refusal to eat. What are Tessa's reasons for not eating? What role does food play in Tessa's feelings about her mother's death?
Siobhan is a woman who has structured her life around discipline and order after growing up in a household where she had none. Is her plan to treat Tessa for anorexia through rules and regulations a result of her sincere desire to help Joey and the girls, or is she hiding an ulterior motive?
The four friends in the novel have very different relationships with the men in their lives. Penelope considered Joey "quite the catch," and seemed to have a flawless marriage. Susannah had nothing in common with her ex-husband except sexual chemistry, which is why they are still sleeping together. Martha believes her husband Sateesh's many attractive qualities are wasted on her, while Lucy has spent years ignoring her attraction to Joey. How do the way these women relate to their husbands and lovers differ? Do their separate philosophies reflect a deeper understanding of love and marriage?
The women in the book all come from families with turbulent relationships. Penelope's father remarried a much younger woman; Martha's mother suffers from serious depression; Lucy's mother always encouraged her daughter's artistic talent, while Siobhan grappled with her parents' neglect. How do their childhood experiences manifest themselves in their adult lives?
Siobhan reads Penelope's private files on her computer, unbeknownst to Joey. She immediately comes to the conclusion that Penelope was cheating on Joey. On page 211, she suspects Lucy of possibly harming Joey's daughters. Do you believe her "soul was brimming with moral courage and not a whiff of spite" -- or do you think Siobhan's actions are motivated by her own desires?
Joey confronts Lucy about the note he believes his wife wrote to her many years ago (p. 237). Lucy thinks he's talking about keeping Tessa's lunchtime activities a secret from him. How does their relationship cause their misunderstanding in this scene? Are Joey's conclusions rational, or are they a result of other, unexplored feelings?
As Tessa continues to struggle to eat enough food, her sister, June, is falling prey to similar destructive habits. Discuss June's evolution through the book, as she goes from enjoying her food to locking herself in the bathroom and forcing herself to vomit. What finally pushes June over the edge?
The Cameron brothers, Nigel and Peter, are desperate to gain sole control of the Cameron Foundation's finances. They install Siobhan in Joey's house to gather information, and then are gleeful when they learn Joey is bringing Penelope's friends to arbitration regarding Penelope's will. Why do they think they are assured victory no matter what is decided?
Lucy goes into a self-admitted "blind panic" when it comes to money matters. She avoids answering the phone for fear it is bill collectors, and she jeopardizes her house by entering into a shady financial deal. Why is Lucy so bad with money? Do you know people in your own life who act in a similar manner?
Discuss Martha's reasons behind keeping the events in Phoenix a secret from Lucy and Sateesh. Are her actions understandable? How do you think they influenced her relationship with Sateesh and her perceived role in the marriage?
After Martha finally confesses to Joey, he runs over to apologize and explain everything to Lucy. However, it doesn't go as planned and Lucy doesn't jump into his open arms. Why not? What are Lucy's reasons for remaining aloof from Joey?
Penelope's love and friendship for Lucy, Martha, and Susannah continues to affect the women even after her death. What sacrifices were made by these four women for each other and how did it affect their friendship? Did those sacrifices necessarily make the friendship stronger?
or
Not Currently Available for Direct Purchase