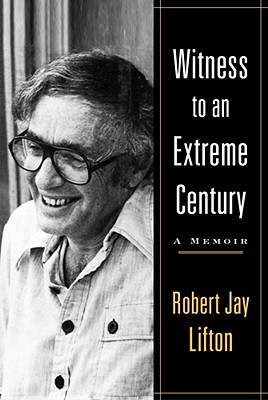 Witness to an Extreme Century: A Memoir (Hardcover)
A Memoir
Free Press, 9781416590767, 448pp.
Publication Date: June 14, 2011
* Individual store prices may vary.
or
Not Currently Available for Direct Purchase
Description
On a fateful day in the spring of 1954 Robert Jay Lifton, a young American psychiatrist just discharged from service in the Korean War, decided to stay in Hong Kong rather than return home--changing his life plans entirely--so that he could continue work that had enthralled him, interviewing people subjected to Chinese thought reform. He had plunged into uncharted territory in probing the far reaches of the human psyche, as he would repeatedly in the years ahead, and his Hong Kong research provided the first understanding of the insidious process that came to be known as brainwashing. From that day in Hong Kong forward, Lifton has probed into some of the darkest episodes of human history, bearing his unique form of psychological witness to the sources and consequences of collective violence and trauma, as well as to our astonishing capacity for resilience. In this long-awaited memoir, Lifton charts the adventurous and constantly surprising course of his fascinating life journey, a journey that took him from what a friend of his called a "Jewish Huck Finn childhood" in Brooklyn to friendships with many of the most influential intellectuals, writers, and artists of our time--from Erik Erikson, David Riesman, and Margaret Mead, to Howard Zinn and Kurt Vonnegut, Stanley Kunitz, Kenzaburo Oe, and Norman Mailer. In his remarkable study of Hiroshima survivors, he explored the human consequences of nuclear weapons, and then went on to uncover dangerous forms of attraction to their power in the spiritual disease he calls nuclearism. During riveting face-to-face interviews with Nazi doctors, he illuminated the reversal of healing and killing in ordinary physicians who had been socialized to Nazi evil. With Vietnam veterans he helped create unprecedented "rap groups" in which much was revealed about what we now call post-traumatic stress disorder, helping veterans draw upon their experience for valuable, even prophetic, insights about atrocity and war. As a pioneer in psychohistory, Lifton's encounters with the consequences of cruelty and destructiveness led him to become a passionate social activist, lending a powerful voice of conscience to the suppressed truths of the Vietnam War and the dangers of nuclear weapons. Written with the warmth of spirit--along with the humor and sense of absurdity--that have made Lifton a beloved friend and teacher to so many, Witness to an Extreme Century is a moving and deeply thought-provoking story of one man's extraordinary commitment to looking into the abyss of evil in order to help us move beyond it.
Praise For Witness to an Extreme Century: A Memoir…
"This stunning book brings alive the story of Robert Jay Lifton's struggles to understand the extremities of the last century to which he was indeed a remarkable witness. His has been a great journey, and we are all richer for his wisdom."

-Charles B. Strozier, author of Until the Fires Stopped Burning: 9/11 and New York City


"Written with the verve of great storytelling and the precision of history, this memoir is a moral meditation that illuminates the age. An exquisite example of how intelligence, erudition, and depth of feeling combine to make redeeming wisdom. A stunning book."

-James Carroll, author of Jerusalem, Jerusalem


"Robert J. Lifton's memoir offers a model of the relationship between introspection and ethical commitment. He writes gracefully and temperately, without rant or jargon, but his is a prophetic voice as he recognizes and names the habits of mind that produce our recurrent inhumanity, demonstrating the compatibility of passion and scholarly investigation – and the necessity for both as we try to acknowledge and transcend the horrors of our times and to take action for a positive future."

-Mary Catherine Bateson, author of Composing a Further Life: The Age of Active Wisdom


"Robert Jay Lifton has long served as one of the most important, and profound, witnesses of the 20th century. In this extraordinary memoir he explores his most vital and haunting work, in an engaging voice that is both wise and welcoming for readers."

-Greg Mitchell, author of The Age of Wikileaks


"A call for a moral awakening by a deeply compassionate chronicler of our times."



"Riveting...As a witness to an extreme century, Lifton continues to challenge us to denounce "the dreadful overall phenomenon we call war'' and reclaim a role as life-affirming, life-enhancing healers."
Advertisement