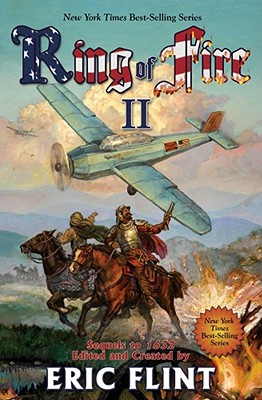 Ring of Fire II (Mass Market)
Baen, 9781416591443, 848pp.
Publication Date: January 27, 2009
* Individual store prices may vary.
Description
1. The latest in a New York Times best-selling series.

2. Eric Flint has over 1.3 million books in print.

3. The Ring of Fire series is one of the most popular alternate history series going.

4. Advertising in Locus, Kliatt, more.

5. Trade advertising.

6. Incremental co-op available.

A mysterious cosmic force—the "Ring of Fire"—has hurled the town of Grantville from 20th century West Virginia back to 17th century Europe, and into the heart of the Thirty Years War. With their seemingly magical technology, and their radical ideas of freedom and justice, the time-lost West Virginians have allied with Gustavus Adolphus, King of Sweden, to form the Confederated Principalities of Europe, changing the course of history—in ways both small and large. The saga begun in 1632 continues with all-new stories by New York Times best-selling authors Eric Flint and Andrew Dennis, plus Dave Freer, K. D. Wentworth, and other top writers, as the time-lost Americans attempt an underwater salvage operation to raise the sunken Swedish flagship, the uprising known as the Ram Rebellion continues, Cardinal Richelieu plots to destroy Grantville and its allies, an American prisoner of war carries on a dangerous romance with the Danish King's daughter, and more in a volume that no fan of the Ring of Fire series will want to be without.
About the Author
Eric Flint is the author of the New York Times best seller 1634: The Galileo Affair (with Andrew Dennis)—a novel in his top-selling "Ring of Fire" alternate history series. His first novel for Baen, Mother of Demons, was picked by Science Fiction Chronicle as a best novel of the year. His 1632, which launched the ring of Fire series, won widespread critical praise, as from Publishers Weekly, which called him "an SF author of particular note, one who can entertain and edify in equal, and major, measure." A longtime labor union activist with a Master's Degree in history, he currently resides in northwest Indiana with his wife Lucille.
or
Not Currently Available for Direct Purchase