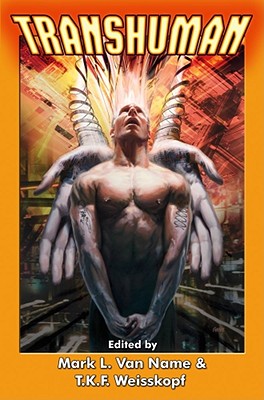 Transhuman
Mass Market Paperbound

* Individual store prices may vary.
Description
1. New York Times best-selling author John Ringo raved about Mark van Name's novel "One Jump Ahead is like well-aged white lightning: it goes down smooth then delivers a kick that knocks you on the floor." 2. Best-selling science fiction master Orson Scott Card concurs, writing that One Jump Ahead has "a hero who is worth at least a dozen more novels. I want this to be a series. I want to read a new one every year." 3. This is cutting-edge science fiction, from the rapidly advancing frontiers of the cybernetic/human interface. 4. Advertising in Locus, more. The rate of technological development today is exploding. Such diverse technologies as computing, communications, genetics, biology, and nanotechnology are rapidly pushing humanity to a new singularity, a point at which all the rules change and everything we assume about what it means to be human may no longer apply. Leading science fiction writers such as Wil McCarthy, Esther Friesner, James P. Hogan, Hugo-winner David D. Levine, Dave Freer, Wen Spencer, Mark L. Van Name, and others explore this strangest of new frontiers. From a criminal given a last chance at life in a very new kind of existence to a man struggling to claim his own humanity, from battles in the depths of very strange spaces to an amazing new version of keeping up with the Joneses, the stories in Transhuman take you where no human has gone before--but where many of us might one day go.
Baen, 9781416591467, 448pp.
Publication Date: March 31, 2009
About the Author
Mark L. Van Name, whom John Ringo has said is "going to be the guy to beat in the race to the top of SFdom," has worked in the high-tech industry for over 30 years and today runs a technology assessment company in the Research Triangle area of North Carolina. A former executive vice president for Ziff Davis Media and a national technology columnist, he's published over a thousand computer-related articles and multiple science fiction stories in a variety of magazines and anthologies, including the Year's Best Science Fiction, multiple original Baen anthologies, and Jim Baen's Universe. His novel, One Jump Ahead, the first in the Jon & Lobo series, appeared in June 2007, and the second book in the series, Slanted Jack, is out June 2008. T.K.F Weisskopf Toni Weisskopf is the Publisher of Baen Books. With Josepha Sherman she compiled and annotated the definitive volume of subversive children's folklore, Greasy Grimy Gopher Guts, published by August House, now in its third printing. Weisskopf is a graduate of Oberlin College with a degree in anthropology.
or
Not Currently Available for Direct Purchase