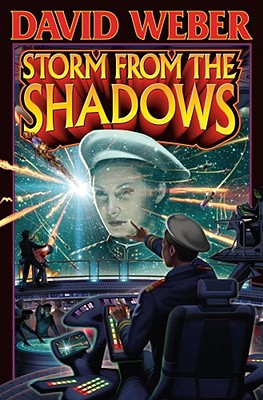 Storm from the Shadows
Hardcover

* Individual store prices may vary.
Other Editions of This Title:
Mass Market (4/27/2010)
MP3 CD (6/9/2015)
Compact Disc (1/26/2016)
MP3 CD (3/3/2009)
MP3 CD (3/3/2009)
Compact Disc (3/3/2009)
Compact Disc (3/3/2009)
Description
1. David Weber has written fourteen New York Times best sellers and has over six million books in print 2. There are over three million copies in print of his New York Times best-selling Honor Harrington series 3. Full-color brochure.with CD-ROM 4. Kit mailing to top accounts 5. Huge distribution of advance reading copies 6. BookSense mailing with brochure 7. Trade advertising 8. Full page advertising in USA TODAY, Book Page, Locus, Kliatt, more 9. National radio tour 10. Five-city author tour 11. Military advertising 12. Teaser chapter in all Baen mass markets for January, February, and March 13. In-store promotion and placement 14. Postcards 15. Bookmarks 16. Co-op available 17. Discount or co-op: $2.00 per book, $.75 per backlist Rear Admiral Michelle Henke was commanding one of the ships in a force led by Honor Harrington in an all-out space battle. The odds were against the Star Kingdom forces, and they had to run. But Michelle's ship was crippled, and had to be destroyed to prevent superior Manticoran technology from falling into Havenite hands, and she and her surviving crew were taken prisoner. Much to her surprise, she was repatriated to Manticore, carrying a request for a summit conference between the leaders of the two sides which might end the war. But a condition of her return was that she gave her parole not to fight against the forces of the Republic of Haven until she had been officially exchanged for a Havenite prisoner of war, so she was given a command far away from the war's battle lines. What she didn't realize was that she would find herself on a collision course, not with a hostile government, but with the interstellar syndicate of criminals known as Manpower. And Manpower had its own plans for eliminating Manticore as a possible threat to its lucrative slave trade, deadly plans which remain hidden in the shadows. Praise for the Prequel, The Shadow of Saganami: "These hugely entertaining and clever adventures are the very epitome of space opera. . . . Weber . . . remind s] the reader that a hero can be anyone who does his or her job with honor, commitment and skill." --Publishers Weekly "The Shadow of Saganami may be military science fiction great David Weber's best tale in the Honorverse . . an action packed tale with a fully developed multiple cast. . . ." --The Midwest Book Review
Baen, 9781416591474, 755pp.
Publication Date: March 1, 2009
About the Author
With more than eight million copies of his books in print and 33 titles on the New York Times bestseller list, David Weber is a science fiction powerhouse. In the vastly popular Honor Harrington series, the spirit of C.S. Forester's Horatio Hornblower and Patrick O'Brian's Master and Commander lives on--into the galactic future. Books in the Honor Harrington and Honorverse series have appeared on 21 bestseller lists, including The Wall Street Journal, The New York Times, and USA Today. Additional Honorverse collaborations include the spin-off miniseries Manticore Ascendant with New York Times best-selling author, Timothy Zahn; and with Eric Flint, Crown of Slaves and Cauldron of Ghosts contribute to his illustrious list of New York Times and international bestseller lists. Best known for his spirited, modern-minded space operas, Weber is also the creator of the Oath of Swords fantasy series and the Dahak saga, a science fiction and fantasy hybrid. Weber has also engaged in a steady stream of best-selling collaborations: the Starfire Series with Steve White; The Empire of Man Series with John Ringo; the Multiverse Series with Linda Evans and Joelle Presby; and the Ring of Fire Series with Eric Flint. David Weber makes his home in South Carolina with his wife and children.
or
Not Currently Available for Direct Purchase