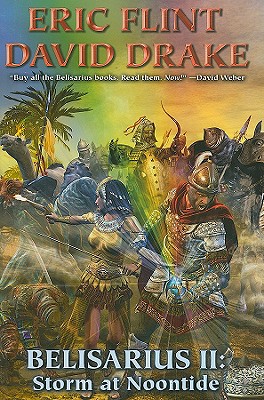 Belisarius II (Hardcover)
Storm at Noontide
Baen, 9781416591481, 859pp.
Publication Date: April 1, 2009
Other Editions of This Title:
Paperback (4/1/2009)
* Individual store prices may vary.
Description
1. The Belisarius series has been very popular, with over a quarter of a million copies in print. 2. Eric Flint is co-author of three New York Times best sellers: 1634: The Galileo Affair, 1634: The Baltic War and 1634: The Bavarian Crisis. 3. David Drake has written many bestsellers, including the Hammer's Slammers series for Baen, and the Lord of the Isles series for Tor. 4. Eric Flint is a brilliant star of fantasy and science fiction. His alternate history novel, 1632, is a strong seller in mass market, with an 87% sell through to date, and strong critical praise, as from Publishers Weekly, which called it "gripping and expertly detailed." 5. Advertising in Locus, more 6. Simultaneous hardcover and trade paperback editions. 7. Co-op available Continuing the popular Belisarius saga, with two full-length novels in one volume. Destiny's Shield: Evil from beyond time: The Malwa Empire squats like a toad across sixth century India, commanded by ruthless men with depraved appetites. But the thing from the distant future that commands them is far worse. Those who oppose the purulent Hell the Malwa will make of Earth have sent a crystal, Aide, to halt their advance. Aide holds all human knowledge--but cannot act by himself. That requires Count Belisarius, the greatest general fo the age and perhaps of all ages, who must outwit the evil empire--and then, when there is no longer room to maneuver, to meet it sword-edge to sword-edge, lest evil beyond human conception rules the world forever. Fortune's Stroke: Link, the supercomputer from a future that should not, must not exist has used terror and gunpowder weapons to forge the Malwa Empire on the Indian subcontinent. Aide and Belisarius have led the armies of Byzantium and blunted the first assault of the Malwa hordes. Now he and his allies from all the world face overwhelming numbers in a ring that tightens about them. The armies of Good and Evil gathered on the fertile plains of Mesopotamia will decide the fate of the world--and the fate of all the future.
About the Author
David Drake is one of the grand masters of military science fiction, known for his best-selling Hammer's Slammers series and many other novels. A Vietnam veteran, he employs his first-hand experience with the military life and combat to give his work the vivid images and feel of battle that have won him a huge readership. He was attending Duke University Law School when he was drafted. Upon his return from the U.S. Army, he completed his law degree at Duke and was for eight years Assistant Town Attorney for Chapel Hill, North Carolina. A full-time writer since 1981, his other books for Baen include the RCN-Leary series, the latest being In the Stormy Red Sky, and the Belisarius series, written in collaboration with Eric Flint, the second and third novels of which are now combined in this volume. Eric Flint is the co-author of three New York Times best sellers in his "Ring of Fire" alternate history series. His first novel for Baen, Mother of Demons, was picked by Science Fiction Chronicle as a best novel of the year. His 1632, which launched the Ring of Fire series, won widespread critical praise, as from Publishers Weekly, which called him "an SF author of particular note, one who can entertain and edify in equal, and major, measure." A longtime labor union activist with a Master's Degree in history, he currently resides in northwest Indiana with his wife Lucille.
or
Not Currently Available for Direct Purchase