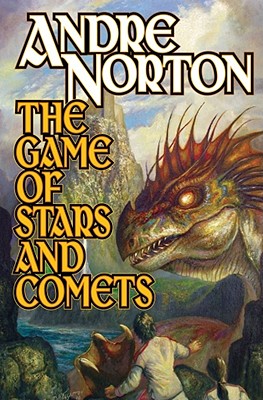 The Game of Stars and Comets
Paperback

* Individual store prices may vary.
Other Editions of This Title:
Mass Market Paperback (5/25/2010)
Description
1. Praised as "a superb talent" by The New York Times, Andre Norton was a legend in science fiction, and is renowned as one of our greatest storytellers. 2. Norton's huge audience has kept her books in print for decades. Her Baen book Star Soldiers has a sell through of 91% in hardcover and 77% in mass market. 3. Consumer advertising in Locus, more. Four novels of rapid-fire interstellar adventure, set in a common universe, by the Grand Master of the form: - The X Factor Only Diskan Fentress's mutant powers had a chance of stopping the looting of his new world. - Voorloper Three those survivors - an embittered wanderer, his son, and a young girl with a healing power - know they have nothing to lose and set out to find the secret of the Shadow Death that blights the planet Voor. - The Eye of the Monster Rees Naper had survived the onslaught of the alien Ishkurian "crocs," but had to cover miles of jungle and pass through croc armies to reach safety. To do that, he would have to think like a croc, move like a croc... and see through the eye of the monster. - The Sioux Spaceman Kade Whitehawk chose to join the battle for Ikkinni freedom, even though that choice made him a renegade to his own people, and would almost certainly mean his death. Publisher's Note: The Game of Stars and Comets was originally published in parts as The X-Factor, The Sioux Spaceman, Eye of the Monster and Voorloper. This is the first time these novels have appeared in one volume.
Baen, 9781416591559, 518pp.
Publication Date: April 7, 2009
About the Author
Called "one of the most popular authors of our time" by Publishers Weekly, Andre Norton is a legend in science fiction, and was one of our greatest storytellers. She wrote science fiction novels for five decades, beginning with the now-classic novel Star Man's Son in 1952. Many of today's top writers, including David Weber, Eric Flint, C.J. Cherryh and Joan D. Vinge, have cited her as a primary influence on their own work. She was Guest of Honor at the 1989 World Science Fiction Convention, and has received the Grand Master award from the Science Fiction Writers of America and the Lifetime Achievement Award of the World Fantasy Convention. She was astoundingly prolific, with over thirty books in her celebrated Witch World series alone. She introduced three generations of SF readers to SF and fantasy, both through her critically acclaimed YA novels and her adult works, and remains one of the most popular authors in both fields. She died in 2005.
or
Not Currently Available for Direct Purchase