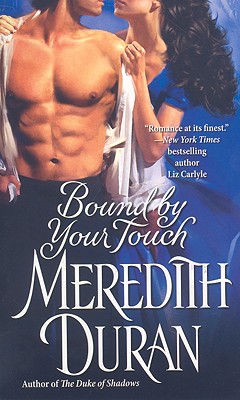 Bound by Your Touch (Mass Market)
Pocket Books, 9781416592631, 368pp.
Publication Date: June 30, 2009
* Individual store prices may vary.
Description

From the exciting new historical author Meredith Duran comes two back-to-back dark and sexy Regency historical novels that follow her thrilling debut The Duke of Shadows.

Lydia Boyce, heroine of Bound by Your Touch, is a spinster with sophisticated interests, for she knows that an unblemished reputation is the only protection in a judgmental world. But when a mysterious forgery threatens to sully her family and her father's legacy, she finds her only hope for salvation in a man who has no use for the rules of good society—or those who follow them. The Viscount Sanburne is a society darling, but a dark past has left him aimless and uninterested in anything but self-destructive amusement. He has no interest in a bluestocking bent on justice—until she flashes a dimple, and he realizes that corrupting her might prove as pleasurable as scandalizing her does.
About the Author
Meredith Duran is the USA TODAY bestselling author of thirteen novels. She blames Anne Boleyn for sparking her lifelong obsession with British history (and for convincing her that princely love is no prize if it doesn't come with a happily-ever-after). She enjoys collecting old etiquette manuals, guidebooks to nineteenth-century London, and travelogues by intrepid Victorian women.
Praise For Bound by Your Touch…
"Romance at its finest." -- New York Times bestselling author Liz Carlyle