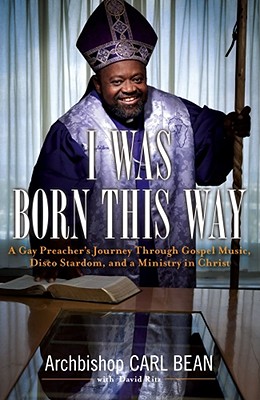 I Was Born This Way: A Gay Preacher's Journey through Gospel Music, Disco Stardom, and a Ministry in Christ (Hardcover)
A Gay Preacher's Journey through Gospel Music, Disco Stardom, and a Ministry in Christ
Simon & Schuster, 9781416592822, 272pp.
Publication Date: June 1, 2010
* Individual store prices may vary.
or
Not Currently Available for Direct Purchase
Description
In I Was Born This Way, Carl Bean, former Motown recording artist, noted AIDS activist, and founder of the Unity Fellowship of Christ Church in Los Angeles, shares his extraordinary personal journey from Baltimore foster homes to the stage of the Apollo Theater and beyond.
CARL BEAN has been crossing boundaries all his life and helping others do the same. He's never been stopped by his race or orientation, never fit or stayed in the boxes people have wanted to put him in. He left his foster home in Baltimore at seventeen and took the bus to New York City, where he quickly found the rich culture of the Harlem churches. As a singer, first with the gospel Alex Bradford Singers and later as a Motown recording artist, Bean was a sensation. When Berry Gordy signed him to record "I Was Born This Way," it was a first: the biggest black-owned record company broadcasting a statement on gender identity. The #1 song, recorded with the Sweet Inspirations, was the first gay liberation dance club hit.
Whether making records, educating the black community about HIV and AIDS, or preaching to his growing congregation, Archbishop Bean has never wanted to minister to just one group. He's worked on AIDS issues with C. Everett Koop and Elizabeth Taylor and on civil rights issues with Maxine Waters, Julian Bond, and Reverend Joseph Lowery. At the height of his recording career, he worked with Dionne Warwick, Burt Bacharach, Miles Davis, and Sammy Davis Jr. He's brought South Central Los Angeles gang members into his church, which now has 25,000 members in twelve cities nationwide; those same Crips and Bloods have shown up at the Gay Pride parades Bean has organized with U.S. Congresswoman Maxine Waters. And he has courageously devoted his time and energy to spurring black civil rights leaders to address the AIDS health crisis within the African American community—an issue on which they had been silent.
Preaching an all-embracing progressive theology, he is an outspoken practitioner of brotherly love, a dynamic preacher, and a social activist. The Unity Fellowship message is grace: "God is love, and God is for everyone"; "God is gay, God is straight, God is black, God is white." I Was Born This Way is the rare personal history of one of black gospel's biggest stars and a frank, powerful, and warmhearted testament to how one man found his calling.
Praise For I Was Born This Way: A Gay Preacher's Journey through Gospel Music, Disco Stardom, and a Ministry in Christ…
"There is a wonderful gospel song entitled, "How I Got Over," which I believe exemplifies the life of Archbishop Carl Bean.This book is an amazing testimony of one man's journey to find himself, and in doing so he became one of the heroes of the Lesbian, Gay, Bisexual, and Transgendered movement, as well as being a major crusader for the fight against HIV/AIDS. Carl's story will make you laugh and cry. He tells of his life with an honesty that will, I'm sure, shock some readers, but you will not be able to put this book down until the end."
--Reverend Troy D. Perry, Founder of the Metropolitan Community Churches




"Sometimes hilarious, sometimes horrifying, always illuminating, I Was Born This Way will become a light in the darkness for many readers. It could not be more welcome.
--Anthony Heilbut, author of The Gospel Sound: Good News and Bad Times



"Bean has certainly led a one-of-a-kind life, and his fast-moving, engaging memoir illuminates the 1960s and '70s gospel world and provides the rare perspective of a homosexual minister....The message is insightful and often powerful. A worthy memoir from a truly unique individual."
-- Kirkus
Advertisement