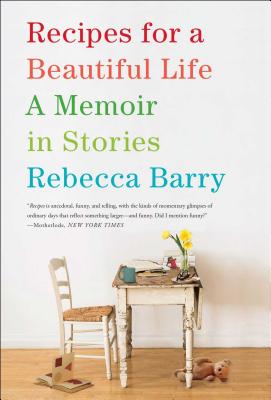 Recipes for a Beautiful Life
A Memoir in Stories
Paperback

* Individual store prices may vary.
Other Editions of This Title:
Hardcover (4/7/2015)
Description
Writing with "a delicate, beautiful balance of wit and yearning" (#1 New York Times bestselling author Elizabeth Gilbert), Rebecca Barry's poignant take on creativity, marriage, and motherhood will make you laugh and cry—sometimes at the same time.

When Rebecca Barry, writer, mother, cat lady, and aspiring meditator, and her husband moved to upstate New York to start their family, they were optimistic that they'd be able to build a life they'd love: one connected to nature and extended family, one where they could invest in their artistic dreams, spend time with their children, live cheaply, and eat well. Naturally, things didn't turn out to be so simple: the lovely old house they bought to fix up needed lots of repair, their children wouldn't sleep, and the novel Rebecca had dreamed of writing simply wouldn't come to her.

"Anecdotal, funny, and telling, with the kinds of momentary glimpses of ordinary days that reflect something larger" (The New York Times), Recipes for a Beautiful Life is about reveling in the extraordinary moments in daily life while trying to balance marriage, children, extended family, and creative work. The book is an excellent companion for mothers with small children, but it also speaks to anyone trying to find meaning in their work or a life that is truer to the heart. Full of great dialogue, tongue-in-cheek recipes (Angry Mommy Tea), and tips on things like how to keep your house clean ("just don't let anyone in"), Recipes captures the sweetness and beauty of answering your soul's longing, as well as the difficulty, struggle, and humor that goes along with it. Mostly it is about the realization that a beautiful life, for this author, meant a rich, often chaotic, creative one. Or, as Redbook said when it featured the book in its "5 fabulous, even life-changing new reads" column: "Contentment isn't about getting everything…but finding magic in the mess."
Praise For Recipes for a Beautiful Life: A Memoir in Stories…
"Barry's writes about writing, while balancing two children with her other arm. It's raw and true, heartbreaking and naked. And in the end it's the story of all of us who strive and settle, grunt and bear it, while still managing to laugh. Which is easy, cause Barry is sly and very, very funny."

"Rebecca Barry looks straight at her life and describes it—sometimes hilariously, sometimes movingly. Her generosity of spirit makes for an engaging, wise, and delightful read."

"A solid addition to the growing genre of short, witty essays written by women about having a career while trying to raise a family."

"Spontaneous dinners with good friends, soul-searching through meditation and yoga, and hilarious snippets of child rearing—all come alive in Barry's memoir, which the reader will relish."

"Dip in and out without missing a beat or the message: Contentment isn't about getting everything…but finding magic in the mess"

"Unblinking honesty and bright humor . . . [Barry's] book is refreshing and hopeful, yet not afraid to examine moments of despair . . . warm, authentic, and funny. She manages somehow to be truthful about parenthood without falling into treacle or sanctimony. An expert at vignettes, she easily conjures up the people in her life and the various moods of our landscape."

"Writing with a delicate balance of humor and truth, critically acclaimed author Rebecca Barry reflects on motherhood, work, and marriage in her new memoir about trying to build a creative life."

"This book will bring a welcome dose of brightness--leavened with acerbic wit--to those who, like Barry, are simply trying to do worthwhile work and care for the people they love."

"Recipes is anecdotal, funny and telling, with the kinds of momentary glimpses of ordinary days that reflect something larger — and funny. Did I mention funny?"

There is just no way I could pack everything I love about Barry's book into this small space, so I'll just say—with firmness and a little catch of emotion in my voice—you need to go discover her writing for yourself. Don't make me reach through the internet, grab you by the collar and drag you down to a bookstore to buy Recipes for a Beautiful Life, because you know I'm currently reading a how-to manual on how to do just that very thing."

"This woman was me. Somehow, she had reached inside my heart and revealed myself to me, told my story far better than I ever could."

"This is not a parenting book, but those who are in the thick of early motherhood will appreciate this book, this Not-A-How-To-How-To collection of stories that expose the sordid details of marriage and parenthood, the ones that lie behind the scenes of a life that seems romantic and wonderful and magical to everyone else. And the stories are funny because they are true. I know Rebecca Barry. I am Rebecca Barry. I know dozens of Rebecca Barrys. We Rebecca Barrys dream a world of farm shares, starlit summer skies, neighborhood coffeeshops, family nearby, friends at the ready with wine and cheese and bread and company."
Simon & Schuster, 9781416593379, 320pp.
Publication Date: April 19, 2016
or
Not Currently Available for Direct Purchase