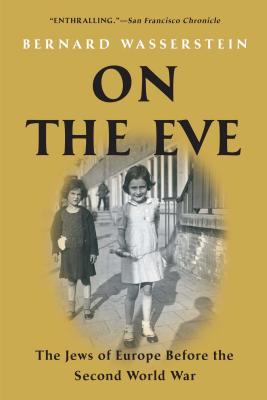 On the Eve
The Jews of Europe Before the Second World War
Paperback

* Individual store prices may vary.
Other Editions of This Title:
Hardcover (5/1/2012)
Description
On the Eve is the portrait of a world on the brink of annihilation. In this provocative book, Bernard Wasserstein presents a new and disturbing interpretation of the collapse of European Jewish civilization even before the Nazi onslaught.

Based on comprehensive research, rendered with compassion and empathy, and brought alive by vibrant stories, On the Eve offers a vivid and mind-opening picture of the European Jews as the continent spiraled toward the Second World War.
Praise For On the Eve: The Jews of Europe Before the Second World War…
"Enthralling, heartbreaking… Wasserstein commands an intensive and incisive knowledge of the Jewish subculture …and, as may be seen, the ability to write about it evocatively."
— San Francisco Chronicle

"Meticulous, closely researched, movingly evocative....As an encyclopaedic record of Jewish life before the second world war, Wasserstein's book is nothing less than a marvel. Nothing escapes his gaze....As he shows, Jewish society had a cultural richness and diversity to match any in Europe….Wasserstein's great achievement is to show just how far Jewish life in Europe was embattled even before war broke out in 1939. This was not some lost golden age."
— Sunday Times of London

"A bright, hard glimpse at the final thriving days of European Jewry…[s]traightforward, scholarly and tidily organized…[a] wide-ranging, marvelously complete overview of a diverse, teeming civilization poised for ruin."
— Kirkus Reviews, starred review

"A substantive, perceptive, and highly valuable kaddish for lost lives and lost worlds."
— Publishers Weekly, starred review

"At last, we have a comprehensive, richly textured account of Jewish life in Europe before the Holocaust. Bernard Wasserstein is unsparingly honest in his portrayal of a highly diverse, highly accomplished community, weakened by internal divisions and demographic decline as a much larger disaster loomed. On the Eve is essential reading for anyone seeking to understand the world that was about to disappear."
— Andrew Nagorski, author of Hitlerland

"The Holocaust lingers in the memory not just because of the scale of the terror visited on Europe's Jews but because of the many, many questions the event has raised that remain unanswered. Wasserstein creates a kaleidoscopic portrait of the many different ways Jews lived from France into Russia. An important study with an important message."
— Michael Goldfarb, author of Emancipation: How Liberating Europe's Jews from the Ghetto Led to Revolution and Renaissance

"Takes the reader step by step through the history of the Jews of Europe between the two world wars and provides a comprehensive survey of their situation throughout the continent. It is a rare and excellent introduction, an evaluation that furnishes a deeper understanding of the events of the Holocaust."
— Yad Vashem International Book Prize citation

"Wasserstein chronicles European Jewry in the decade before the war, boldly exploring problems within the community as well as the external pressures of anti-Semitism…I suspect that we think we know all there is to know about this subject, but we don't; Wasserstein should have us covered. Important."
— Library Journal

"Wasserstein . . . is not only an expert about his subject matter but also a lucid writer. . . . superb"
— Christian Science Monitor

"Judicious and comprehensive . . . in the process of covering such a wide chronological and geographic scope, Wasserstein frequently brings in the lives and experiences of specific individuals, thereby offering the reader a sense of life as it was lived."
— HistoryBookClub.com

"An enlightening and moving evocation of the richness and heterogeneity, both vast and under-documented, of Jewish life in pre-war Europe."
— The Jewish Chronicle
Simon & Schuster, 9781416594284, 592pp.
Publication Date: December 29, 2015
About the Author
Bernard Wasserstein is Ulrich and Harriet Meyer Professor of Modern European Jewish History at the University of Chicago. His many previous books include The Secret Lives of Trebitsch Lincoln, which was awarded the Golden Dagger for Non-Fiction by the Crime Writers' Association, and Barbarism and Civilization: A History of Europe in Our Time.
or
Not Currently Available for Direct Purchase