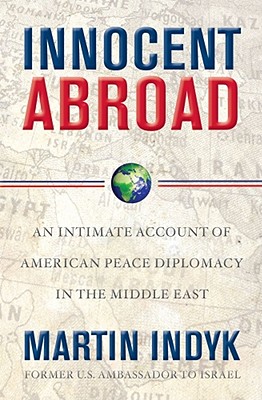 Innocent Abroad
An Intimate Account of American Peace Diplomacy in the Middle East
Hardcover

* Individual store prices may vary.
Other Editions of This Title:
Paperback (10/18/2014)
Description
Making peace in the long-troubled Middle East is likely to be one of the top priorities of the next American president. He will need to take account of the important lessons from past attempts, which are described and analyzed here in a gripping book by a renowned expert who served twice as U.S. ambassador to Israel and as Middle East adviser to President Clinton. Martin Indyk draws on his many years of intense involvement in the region to provide the inside story of the last time the United States employed sustained diplomacy to end the Arab-Israeli conflict and change the behavior of rogue regimes in Iraq and Iran. Innocent Abroad is an insightful history and a poignant memoir. Indyk provides a fascinating examination of the ironic consequences when American na vet meets Middle Eastern cynicism in the region's political bazaars. He dissects the very different strategies of Bill Clinton and George W. Bush to explain why they both faced such difficulties remaking the Middle East in their images of a more peaceful or democratic place. He provides new details of the breakdown of the Arab-Israeli peace talks at Camp David, of the CIA's failure to overthrow Saddam Hussein, and of Clinton's attempts to negotiate with Iran's president. Indyk takes us inside the Oval Office, the Situation Room, the palaces of Arab potentates, and the offices of Israeli prime ministers. He draws intimate portraits of the American, Israeli, and Arab leaders he worked with, including Israel's Yitzhak Rabin, Ehud Barak, and Ariel Sharon; the PLO's Yasser Arafat; Egypt's Hosni Mubarak; and Syria's Hafez al-Asad. He describes in vivid detail high-level meetings, demonstrating how difficult it is for American presidents to understand the motives and intentions of Middle Eastern leaders and how easy it is for them to miss those rare moments when these leaders are willing to act in ways that can produce breakthroughs to peace. Innocent Abroad is an extraordinarily candid and enthralling account, crucially important in grasping the obstacles that have confounded the efforts of recent presidents. As a new administration takes power, this experienced diplomat distills the lessons of past failures to chart a new way forward that will be required reading.
Praise For Innocent Abroad: An Intimate Account of American Peace Diplomacy in the Middle East…
"A rare book of diplomatic history that is suspenseful and dramatic. Indyk puts you inside the White House and leads you through the highs and lows of the Arab-Israeli peace process. Studded with sharp insights about people and places, this is a book to savor and also learn from. Anyone interested in the Middle East or how foreign policy actually works should read this fascinating tale." -- Fareed Zakaria, editor of Newsweek International and author of The Post-American World



"The ultimate inside account of the machinations of the modern Middle East. Indyk has lived this story now for several decades, and he provides the most vivid cameos and snapshots of the personalities of the region since Henry Kissinger's memoir of his 'shuttle diplomacy' years. Indyk is honest and self-critical about his own mistakes and those of his former bosses. That's the most hopeful aspect of this remarkable memoir -- that we can actually learn from our errors. I devoured this book. As with a good novel, the story grabs hold of you and doesn't let go." -- David Ignatius, columnist for The Washington Post and author of Body of Lies



"Few diplomats have been as closely involved with the attempts to broker a peace treaty in the Middle East as Martin Indyk. His knowledge, experience, and candor make Innocent Abroad a fascinating book." -- Dr. Henry Kissinger, former U.S. secretary of state



"Combines an intimate memoir with a fascinating account of the roller-coaster ride that is the quest for peace between Israel and its neighbors. Vivid, sharply drawn portraits of all the players -- both heartbreaking and hopeful, this book should be in every negotiator's briefcase." -- Richard Holbrooke, former U.S. ambassador to the United Nations and chief negotiator of the Dayton Peace Accords



"Timely and valuable.... Following Indyk's advice would be a good place to start." -- The New York Times Book Review



"Excellent.... Nuanced." -- Newsweek



"Incisive." -- Thomas Friedman, The New York Times (column of 1/7/09)



"Part memoir, part political analysis, elegantly written, and hard to put down." -- The New York Review of Books



"For practitioners of Middle East diplomacy, this book is essential." -- The Washington Times



"A vivid insider's account....Required reading for the next president." -- Kirkus Reviews
Simon & Schuster, 9781416594291, 512pp.
Publication Date: January 6, 2009
or
Not Currently Available for Direct Purchase