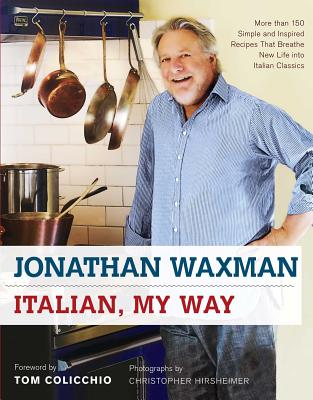 Italian, My Way (Hardcover)
More Than 150 Simple and Inspired Recipes That Breathe New Life Into Italian Classics
Simon & Schuster, 9781416594314, 286pp.
Publication Date: April 5, 2011
Description
Simple. Seasonal. Inspired. A father of New American cuisine and mentor to chefs like Bobby Flay, Jonathan Waxman introduced a new generation to the pleasures of casual food by shining a spotlight on seasonal produce. Now, in Italian, My Way, he shares the spontaneous and earthy dishes that made him a Top Chef Master and culinary legend, and turned his restaurant Barbuto into a New York destination. Waxman's rustic Italian food is accessible, delicious, and a joy to prepare. It's food you cook for friends and family with music in the background and a glass of wine in hand--fresh ravioli with pumpkin and sage, chicken al forno with salsa verde, a blueberry crisp. Italian, My Way gives you the confidence to transform simple ingredients into culinary revelations and create bold and robust flavor without a lot of fuss. You'll make the perfect blistered-crust pizza and spaghetti alla carbonara, the creamiest risotto with sweet peas and Parmesan, and an unforgettable grilled hanger steak with salsa piccante. Waxman breaks down the culinary lessons of Italy into plain English, helping you sweat less in the kitchen and enjoy cooking more. After all, simpler recipes mean less time planning meals--and more time enjoying them. As chef Tom Colicchio writes in his foreword, "This is food that is meant to be made in your home. Cook it with love and for your family and friends. That's Italian, Jonathan's way.
Praise For Italian, My Way: More Than 150 Simple and Inspired Recipes That Breathe New Life Into Italian Classics…
"Nobody does simple and seasonal better than Jonathan Waxman. His new book is full of recipes that not only teach Italian cooking, but simplicity itself. Way to go, big boy."
—Jamie Oliver



"Jonathan Waxman has been at the forefront of modern American cooking for decades, and has always prepared delicious food in an exquisitely simple and straightforward way. At Barbuto, he has redefined simple Italian food, and he continues to raise the bar of poetic tastiness for me and every chef I know. This book makes me want to share the beauty of magnificent, simple, perfect food with Jonathan, our families, and our best pals."
—Mario Batali



"Jonathan cooks the food I want to eat. He is one of the great cooks I know."
—Alice Waters



"My number one mentor."
—Bobby Flay



"Jonathan understands food on a level that captures the soul of cuisine. Italian cuisine is about great ingredients and honest treatment. He makes that clear in this love affair with great food."
—Rick Moonen, Top Chef Master and author of Fish Without a Doubt



"Jonathan Waxman is immune to culinary fad and fashion and brings an old souls understanding of food tradition and core values to his work. He is also quite possibly the best natural, instinctual cook I know."
—Colman Andrews



"Jonathan's book inspires me to spend more time in the kitchen. He's such an amazing chef, I would eat this book."
—Caleb Followill, Kings of Leon singer and guitarist



"Jonathan Waxman is a chef's chef, and he is frequently my chef because Barbuto, his restaurant, is the place I go for my favorite food. Jonathan is not only a master cook, he is a world class communicator. In Italian, My Way, Jonathan takes the mystery and complexity out of Italian cooking."
—Charlie Rose
Advertisement