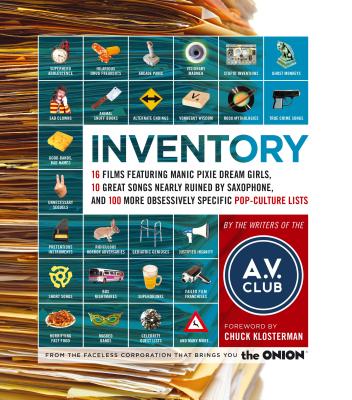 Inventory
16 Films Featuring Manic Pixie Dream Girls, 10 Great Songs Nearly Ruined by Saxophone, and 100 More Obsessively Specific Pop-Culture Lists
Paperback

* Individual store prices may vary.
Description
Each week, the writers of The A.V. Club issue a slightly slanted pop-culture list filled with challenging opinions (Is David Bowie's "Young Americans" nearly ruined by saxophone?) and fascinating facts. Exploring 24 great films too painful to watch twice, 14 tragic movie-masturbation scenes, 18 songs about crappy cities, and much more, Inventory combines a massive helping of new lists created especially for the book with a few favorites first seen at avclub.com and in the pages of The A.V. Club's sister publication, The Onion.

But wait! There's more: John Hodgman offers a set of minutely detailed (and probably fictional) character actors. Patton Oswalt waxes ecstatic about the "quiet film revolutions" that changed cinema in small but exciting ways. Amy Sedaris lists 50 things that make her laugh. "Weird Al" Yankovic examines the noises of Mad magazine's Don Martin. Plus lists from Paul Thomas Anderson, Robert Ben Garant, Tom Lennon, Andrew W.K., Tim and Eric, Daniel Handler, and Zach Galifianakis -- and an epic foreword from essayist Chuck Klosterman.
Praise For Inventory: 16 Films Featuring Manic Pixie Dream Girls, 10 Great Songs Nearly Ruined by Saxophone, and 100 More Obsessively Specific Pop-Culture Lists…
"Inventory is awesome and will provide you with endless hours of reading and arguing with friends. I love this book, except for page 124. I don't care what anybody says, Bowie's 'Young Americans' sounds terrific with the saxophone. Go f*** yourself, A.V. Club." -- Joel McHale, The Soup

"In a culture that worships the disposable, lazy lists obligatorily put together by self-serving editorial staffs at the likes of Barely Information Magazine, The A.V. Club has decided to embrace what it parodies until it meets itself just outside of heaven and shakes its own hand while flipping itself, and you and me, off. Kudos, A.V. Club!" -- David Cross, Mr. Show and Arrested Development

"I'm going to put this awesome book on my coffee table so when people come over they'll think I'm fun, clever, and sophisticated, but charmingly populist. And when they see my name on the back cover, they'll also think I'm famous!" -- Mindy Kaling, The Office

"Despite the fact that they declined to ask me to participate in this award-winning* book, I bear no ill will toward the writers because they are all geniuses; buying this book will make you feel a genius, too.** (*This book has not won any awards. **No, that was not a typo. I literally meant you would feel a genius.)" -- Michael Ian Black, The State and Michael And Michael Have Issues

"I did look at the book and enjoyed it, but didn't have time to come up with a quote, unless 'Seems like a pretty good book. I had a great time skimming it' works." -- Eugene Mirman, Flight Of The Conchords and The Will To Whatevs
Scribner, 9781416594734, 256pp.
Publication Date: October 13, 2009
About the Author
A.V. Club was founded in 1995 as the arts-and-entertainment arm of the satirical newspaper and website The Onion. The two brands quickly became distinct from each other, with The Onion providing humor and America's finest news, and the A.V. Club becoming a significant, well-received source for pop culture news and commentary. In recent years, the A.V. Club's web presence has become huge, attracting over a million unique users per month who visit for reviews, interviews, listings, and features on film, television, music, books, and more. Inventory will enjoy contributions from the entire A.V. Club staff, but the primary staff members assigned to the book project are Editor Keith Phipps, Managing Editor Josh Modell, and Associate Editors Tasha Robinson and Kyle Ryan.

Chuck Klosterman is the bestselling author of many books of nonfiction (including Sex, Drugs, and Cocoa Puffs, I Wear the Black Hat, Fargo Rock City and Chuck Klosterman X) and two novels (Downtown Owl and The Visible Man). He has written for The New York Times, The Washington Post, GQ, Esquire, Spin, The Guardian, The Believer, Billboard, The A.V. Club, and ESPN. Klosterman served as the Ethicist for The New York Times Magazine for three years, and was an original founder of the website Grantland with Bill Simmons.
Coverage from NPR