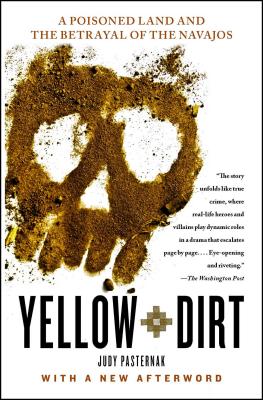 Yellow Dirt
A Poisoned Land and the Betrayal of the Navajos
Paperback

* Individual store prices may vary.
Other Editions of This Title:
Digital Audiobook (9/20/2010)
MP3 CD (9/21/2010)
Compact Disc (9/21/2010)
Description
This investigative feat tells the shocking, heartbreaking story of uranium mining on the Navajo reservation and its terrible legacy of sickness and government neglect, documenting one of the darker chapters in 20th century American history.

Now in paperback, the critically acclaimed Yellow Dirt, "will break your heart. An enormous achievement—literally, a piece of groundbreaking investigative journalism—illustrates exactly what reporting should do: Show us what we've become as a people, and sharpen our vision of who we, the people, ought to become" ( The Christian Science Monitor ).

From the 1930s to the 1960s, the United States knowingly used and discarded an entire tribe of people as the Navajos worked, unprotected, in the uranium mines that fueled the Manhattan Project and the Cold War. Long after these mines were abandoned, Navajos in all four corners of the Reservation (which borders Utah, New Mexico, and Arizona) continued grazing their animals on sagebrush flats riddled with uranium that had been blasted from the ground. They built their houses out of chunks of uranium ore, inhaled radioactive dust borne aloft from the waste piles the mining companies had left behind, and their children played in the unsealed mines themselves. Ten years after the mines closed, the cancer rate on the reservation shot up and some babies began to be born with crooked fingers that fused together into claws as they grew. Government scientists filed complaints about the situation with the government, but were told it was a mess too expensive to clean up.

Judy Pasternak exposed this story in a prizewinning Los Angeles Times series. Her work galvanized both a congressman and a famous prosecutor to clean the sites and get reparations for the tribe. Yellow Dirt is her powerful chronicle of both the scandal of neglect and the Navajos' fight for justice.
Praise For Yellow Dirt: A Poisoned Land and the Betrayal of the Navajos…
"This book will break your heart. Not only an enormous achievement – literally, a piece of groundbreaking investigative journalism – it also illustrates exactly what careful, painstaking, and risk-taking reporting should do: Show us what we've become as a people, and sharpen our vision of who we, the people, ought to become."--The Christian Science Monitor



"Studded with vivid character sketches and evocative descriptions of the American landscape, Pasternak's scarifying account of  uranium mining's disastrous consequences often reads like a novel...does justic to the ethical and historial ambiguities while crafting a narrative of exemplary clarity."--Los Angeles Times



"Chilling. Has the cumulative power of scrupulous truth-telling and the value of old-style investigative reportage."--Laura Miller, Salon



"This book is a masterwork. It is journalism at its very best—a story told fully and eloquently. A story that everyone should know."
—Michael Connelly, author of Nine Dragons



"One of those stories that makes us believe all over again in journalism, in its power to bring truth to light." —Harvard's Nieman Narrative Digest



"This compelling and compassionate book could not be more timely. A gripping story of the betrayal of the Navajos, it comes at a time where once again the human costs of energy production are slighted and both the government and corporations ride roughshod over the least powerful."
—Richard White, Pulitzer Prize finalist, Recipient of a Macarthur Fellowship, and Margaret Byrne Professor of American History, Stanford University



"An astounding book. Judy Pasternak has dug deeply into the archives and into the ground itself to uncover the real story behind one of the darkest chapters of the Cold War on American soil. With her dogged pursuit of the facts and an elegant prose style, Pasternak elevates investigative journalism into the realm of literature." -- Tom Zoellner, author of Uranium: War, Energy and the Rock that Shaped the World



"Disturbing and illuminating. Pasternak evokes the magnitude of a nuclear disaster that continues to reverberate. Unfolds like true crime, where real-life heroes and villains play dynamic roles in a drama that escalates page by page. Eye-opening and riveting, "Yellow Dirt" gives a sobering glimpse into our atomic past and adds a critical voice to the debate about resurrecting America's nuclear industry."--The Washington Post



"A window into a dark chapter of modern history that still reverberates today.Transporting readers into a little-known country-within-a-country, award-winning journalist Judy Pasternak gives rare voice to Navajo perceptions of the world, their own complicated involvement with uranium mining, and their political coming-of-age. A work of the highest quality journalism, an exposé made possible by meticulous research... She has taken a large cast of characters, a bulging list of corporations and government agencies, and a scientific subject and managed to unite them in a story that the average reader can comprehend."--Stacy Rae Brownlie, BookBrowse
Free Press, 9781416594833, 336pp.
Publication Date: July 5, 2011
About the Author
Judy Pasternak is a writer who lives near Washington DC. She worked for the Los Angeles Times for 24 years, in Los Angeles, Chicago and Washington, tackling subjects as varied as al Qaeda's private airline, a band of right-wing bank robbers, backstage maneuvering at Dick Cheney's energy task force and the giant black hole at the center of the Milky Way. She has won numerous awards for environmental and investigative journalism. Previously, she worked at the Detroit Free Press, Baltimore News American and Hollywood (Fla.) Sun-Tattler. She is married, with one son.