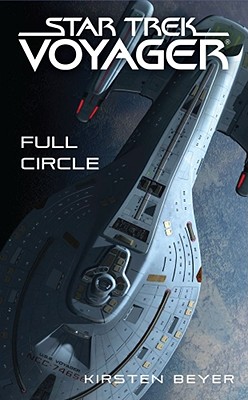 Full Circle (Star Trek (Mass Market)
Voyager)
Pocket Books/Star Trek, 9781416594963, 576pp.
Publication Date: March 31, 2009
* Individual store prices may vary.
Description
When the U.S.S. Voyager is dispatched on an urgent mission to the planet Kerovi, Captain Chakotay and his first officer, Commander Thomas Paris, must choose between following their orders and saving the lives of two of those dearest to them. B'Elanna Torres and her daughter, Miral, are both missing in the wake of a brutal attack on the Klingon world of Boreth. With the aid of their former captain, Admiral Kathryn Janeway -- as well as many old friends and new allies -- Voyager's crew must unravel an ancient mystery, placing themselves between two warrior sects battling for the soul of the Klingon people...while the life of Miral hangs in the balance.

But these events and their repercussions are merely the prelude to even darker days to come. As Voyager is drawn into a desperate struggle to prevent the annihilation of the Federation, lives are shattered, and the bonds that were forged in the Delta Quadrant are challenged in ways that none could have imagined. For though destiny has dealt them crushing blows, Voyager's crew must rise to face their future...and begin a perilous journey in which the wheel of fate comes full circle.
About the Author
Kirsten Beyer is the New York Times bestselling author of ten Star Trek: Voyager novels, including String Theory: Fusion, Full Circle, Unworthy, Children of the Storm, The Eternal Tide, Protectors, Acts of Contrition, Atonement, A Pocket Full of Lies, and Architects of Infinity. She wrote the Buffy the Vampire Slayer novel, One Thing or Your Mother, and the Alias novel Once Lost. In 2016, she joined the writing staff of the CBS All Access series Star Trek: Discovery. In 2017, she pitched the premise for a new series centered around one of Star Trek's most beloved captains, Jean-Luc Picard, and became one of show's cocreators. In addition to her writing and producing responsibilities, Kirsten also serves as the resident Star Trek canon resource for the writer's rooms and production departments, as well as the liaison between the series and the tie-in licensors. Kirsten received undergraduate degrees in English Literature and Theater Arts from Loyola Marymount University and an MFA degree from UCLA. She lives in Los Angeles with her husband, actor and composer David Permenter, and their daughter.
or
Not Currently Available for Direct Purchase