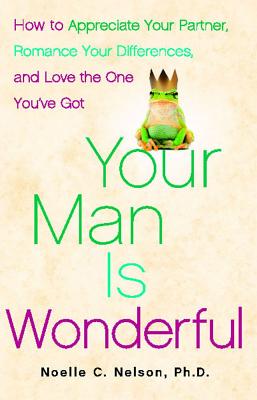 Your Man Is Wonderful
How to Appreciate Your Partner, Romance Your Differences, and Love the One You've Got
Paperback

* Individual store prices may vary.
Description

Here's a secret about your man: He wants to please you. He wants to be your knight in shining armor. He wants to see the smile on your face that tells him he's worthy. He wants to be your wonderful man.

This is what Dr. Noelle Nelson has discovered about a lot of men in relationships: they want to be there for their women and create the mutually supportive, fulfilling partnerships women dream of. The problem is, many women haven't learned how to recognize their partner's good qualities. We notice when he forgets to take out the garbage, when he insists on refolding the laundry, when he goes out for an evening with the guys and forgets to call -- and overlook the very qualities that make a relationship blossom, like basic trustworthiness, reliability, and responsiveness. A clearly defined path to recognizing your guy's positive qualities, Your Man Is Wonderful defines what a wonderful man is -- not just someone who treats his partner with regard, affection, and respect, but one who eagerly engages as her greatest cheerleader, supporter, and best friend. And it shows how to stop griping about your partner and see that the toad on the couch is really a prince-in-waiting. The backbone of Your Man Is Wonderful is the illuminating, lively, and disarming honesty of a group of women who come together for a roundtable discussion and share stories from their lives with wonderful men, including the obstacles they overcame and the joys that ensued. These women come from all walks of life, but share one thing in common: they all have developed mutually supportive, fulfilling relationships. Their uplifting stories are like a heart-to-heart talk that lets you know that a wonderful relationship is possible. Dr. Nelson builds upon their stories and draws on her years as a clinical psychologist to present specific, grounded guidance so that you can transform your relationship into the kind of mutually fulfilling partnership that these women already enjoy. Warm and realistic, Dr. Noelle Nelson has empowered countless individuals to be happier, healthier, and more successful in relationships. Although men and women are different, they are not so different that they cannot create a healthy relationship -- the key is to appreciate the differences and transform them into strengths. And this practical program shows how. Enhanced with detailed exercises and charts to track your progress, Your Man Is Wonderful is a way for you to rehabilitate your relationship so that your wonderful man can step into the open.
Praise For Your Man Is Wonderful: How to Appreciate Your Partner, Romance Your Differences, and Love the One You've Got…
"Look carefully at the title of this book -- it says it all! If you've got a special man, you don't have to keep searching for someone better. Noelle Nelson applies her sensitive wisdom, weaving in stories of loving women and their quirky men, to illustrate clearly how you can achieve happiness by loving the man you've got. So, throw out your list of fairy-tale expectations and pick up a copy of Dr. Nelson's brilliant book Your Man Is Wonderful. You'll be glad you did!" -- Scott Haltzman, M.D., author of The Secrets of Happily Married Women: How to Get More Out of Your Relationship by Doing Less



"Bravo. In this wonderfully human and evocative book, Dr. Nelson helps us to embrace an invaluable truth: that enduring love and meaning are found not by retreating into the reassuring comfort of our similarities, but by adventuring into the daunting but enlivening realm of our differences." -- Mark O'Connell, author of The Marriage Benefit: The Surprising Rewards of Staying Together
Atria Books, 9781416595250, 208pp.
Publication Date: May 16, 2013