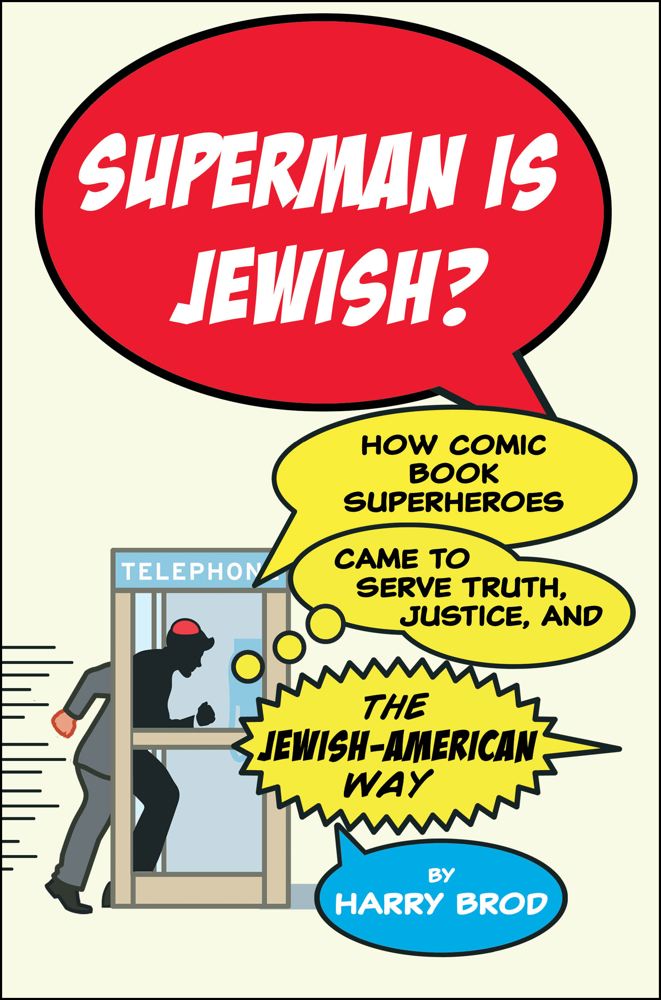 Superman Is Jewish? (Hardcover)
How Comic Book Superheroes Came to Serve Truth, Justice, and the Jewish-American Way
Free Press, 9781416595304, 208pp.
Publication Date: November 6, 2012
Other Editions of This Title:
Digital Audiobook (11/5/2012)
MP3 CD (11/6/2012)
Compact Disc (11/6/2012)
Compact Disc (11/6/2012)
Paperback (1/12/2016)
* Individual store prices may vary.
Description
As brilliant as it is witty, Harry Brod's surprisingly insightful expos delves into the secret identities of the world's most famous superheroes. Many of us know that the superheroes at the heart of the American comic book industry were created by Jews. But we'd be surprised to learn how much these beloved characters were shaped by the cultural and religious traditions of their makers. Superman Is Jewish? follows the "people of the book" as they become the people of the comic book. Harry Brod reveals the links between Jews and superheroes in a penetrating investigation of iconic comic book figures. With great wit and compelling arguments, Brod situates superheroes within the course of Jewish- American history: they are aliens in a foreign land, like Superman; figures plagued by guilt for not having saved their families, like Spider-Man; outsiders persecuted for being different, like the X-Men; nice, smart people afraid that nobody will like them when they're angry, like the Hulk. Brod blends humor with sharp observation as he considers the overt and discreet Jewish characteristics of these well-known figures and explores how their creators--including Jerry Siegel, Joe Shuster, Stan Lee, and Jack Kirby-- integrated their Jewish identities and their creativity. Brod makes a strong case that these pioneering Jews created New World superheroes using models from Old World traditions. He demonstrates how contemporary characters were inspired by the golem, the mystically created artificial superhuman of Jewish lore. And before Superman was first drawn by Joe Shuster, there were those Jews flying through the air drawn by Marc Chagall. As poignant as it is fascinating, this lively guided tour travels from the Passover Haggadah's exciting action scenes of Moses's superpowers through the Yiddish humor of Mad to two Pulitzer Prizes awarded in one decade to Jewish comic book guys Art Spiegelman and Michael Chabon. Superman Is Jewish? explores the deeper story of how an immigrant group can use popular entertainment media to influence the larger culture and in the process see itself in new, more empowering ways. Not just for Jewish readers or comic book fans, Superman Is Jewish? is a story of America, and is as poignant as it is fascinating. *** A surprising question, one that takes a certain amount of chutzpah to even raise. To add even a bit more chutzpah, this book considers questions about the Jewishness of more superheroes than just Superman, and offers answers that will surprise many. You mean Spider-Man is Jewish too? Well, actually, yes, but in a very different way than Superman is. And, as we'll see, the shift between them reflects the evolution of Jewish life in America itself in the generation between the two, the generation that gets us from World War II and the "Golden Age" of comics to the 1960s and the "Silver Age" of comics. The historical turning points of those tumultuous years and others, like the powerful 1950s crusade against comics for supposedly causing juvenile delinquency, turn out to be central to our story because these events, and their great impact on American Jews, appear on comic book pages themselves, and behind the scenes in their production. For it turns out that the history of Jews and comic book superheroes, that very American invention, is the history of Jews and America, particularly the history of Jewish assimilation into the mainstream of American culture.
Praise For Superman Is Jewish?: How Comic Book Superheroes Came to Serve Truth, Justice, and the Jewish-American Way…
"This witty, insightful expose delves into the secret identities of the world's most famous superheroes." --Publisher's Weekly



"Brod's scholarly but lively narrative does a fine job of tracing 'how the people of the book became the people of the comic book.'" --Kirkus Reviews



"An essential study of the field." --Booklist



"Told by a storyteller as knowledgeable and entertaining as Harry Brod has proven himself to be, Superman Is Jewish? provides the intellectual thrill of a good scholarly text as well as the guilty pleasure of a good comic book."



"A serious work that often is light-hearted, amusing and generally clear, deliberately avoiding the obscure vocabulary with which so many academics write."
or
Not Currently Available for Direct Purchase