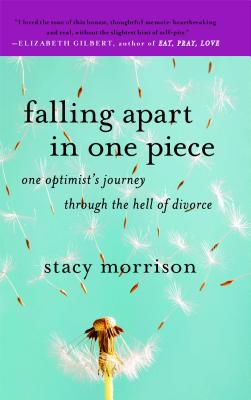 Falling Apart in One Piece
One Optimist's Journey Through the Hell of Divorce
Paperback

* Individual store prices may vary.
Other Editions of This Title:
Digital Audiobook (3/29/2010)
MP3 CD (3/30/2010)
Compact Disc (3/30/2010)
Compact Disc (3/30/2010)
Hardcover (3/23/2010)
Compact Disc (3/30/2010)
Compact Disc (3/30/2010)
MP3 CD (3/30/2010)
Description
The emotionally charged story of a divorce that brought the surprising gift of grace

Just when Stacy Morrison thought everything in her life had come together, her husband of ten years announced that he wanted a divorce. She was left alone with a new house that needed a lot of work, a new baby who needed a lot of attention, and a new job in the high-pressure world of New York magazine publishing.

Morrison had never been one to believe in fairy tales. As far as she was concerned, happy endings were the product of the kind of ambition and hard work that had propelled her to the top of her profession. But she had always considered her relationship with her husband a safe place in her often stressful life. All of her assumptions about how life works crumbled, though, when she discovered that no amount of will and determination was going to save her marriage.

For Stacy, the only solution was to keep on living, and to listen—as deeply and openly as possible—to what this experience was teaching her.

Told with humor and heart, her honest and intimate account of the stress of being a working mother while trying to make sense of her unraveling marriage offers unexpected lessons of love, forgiveness, and dignity that will resonate with women everywhere.
Praise For Falling Apart in One Piece: One Optimist's Journey Through the Hell of Divorce…
"I loved the tone of this honest, thoughtful memoir: heartbreaking and real, without the slightest hint of self-pity."
—ELIZABETH GILBERT, AUTHOR OF EAT, PRAY, LOVE AND COMMITTED



"Stacy Morrison's memoir is as sweet as it is sad, both honest as an anvil and full of genuine hope. Morrison's buoyant prose and hard-earned wisdom make the mess and roar of love, however difficult, all seem worthwhile."
—Karen Karbo, author of The Stuff of Life: A Daughter's Memoir



"I loved it. Raw, wonderful, honest, brash, truth-telling—Falling Apart in One Piece is a story about learning to let go and come to terms with the journey of life. It is a book for anyone whose life has just taken an unexpected turn and who needs to be reminded that not only can they be happy again, but that the human spirit is capable of great resilience." —Lee Woodruff, author of Perfectly Imperfect: A Life in Progress
Simon & Schuster, 9781416595571, 256pp.
Publication Date: March 15, 2011
About the Author
Stacy Morrison is the editor in chief of Redbook magazine. Under her guidance, the magazine has found new vibrancy and relevance for today's generations, winning a Folio award for General Excellence (2005), a Clarion award for General Excellence (2007), and a National Magazine Award nomination for Personal Service (2006). She has appeared as an expert on women, love, sex, money and more on the Today Show, CNN Headline News, CNN Moneyline, and The Early Show, among many other TV programs.

Before becoming editor in chief of Redbook magazine, she was Executive Editor at Marie Claire, working on the international advocacy projects, and had previously been the editor in chief of Modern Bride magazine and the venture-funded dot.com/magazine about design, One (which won three Ozzie awards in its short lifespan). She was also a part of the launches of Conde Nast Sports for Women, Time Out New York, and Mirabella magazine.

She lives in Brooklyn with her 4-year-old son, Zack, whose father is at the house many, many times a week.