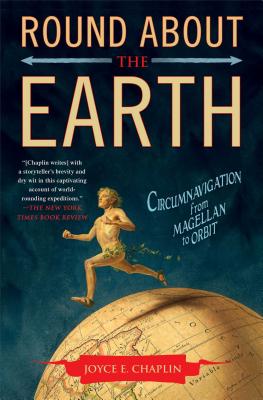 Round About the Earth
Circumnavigation from Magellan to Orbit
Paperback

* Individual store prices may vary.
Other Editions of This Title:
Digital Audiobook (2/10/2013)
Compact Disc (2/11/2013)
MP3 CD (2/11/2013)
Description
Highly acclaimed, this first full history of around-the-world travel by Joyce E. Chaplin brilliantly tells the story of circumnavigation. A witty, erudite, and colorful account of the outrageous ambitions that have inspired men and women to circle the entire planet.

In this first full history of around-the-world travel, Joyce E. Chaplin brilliantly tells the story of circumnavigation. For almost five hundred years, human beings have been finding ways to circle the Earth—by sail, steam, or liquid fuel; by cycling, driving, flying, or going into orbit; even by using their own bodily power. Round About the Earth is a witty, erudite, and colorful account of the outrageous ambitions that have inspired men and women to encircle the planet.
Praise For Round About the Earth: Circumnavigation from Magellan to Orbit…
"A richly textured narrative. … Colorful adventures … fill the pages of this unconventional world history…Chaplin knows how to tell an absorbing story, weaving compelling reflections together with captivating vignettes. Augmented by first-person accounts, her prose can call to mind the late Samuel Eliot Morison, another Harvard historian whose dramatic narratives frequently unfolded at sea."
— Wall Street Journal

"By chronicling the way humans have traveled around the world in the past 500 years, Joyce Chaplin shows the interplay of aspirations and technology, from sail and steam to jets and rockets. More profoundly, she explores what it means to circle our globe, act on a planetary scale, and encompass both figuratively and literally the whole earth."
— Walter Isaacson, author of Steve Jobs

"[Chaplin writes] with a storyteller's brevity and dry wit in this captivating account of world-rounding expeditions."
— The New York Times Book Review

"In this thrilling history, Joyce Chaplin has illuminated one of the greatest dramas of humankind: the quest to journey around the globe. She not only brilliantly brings to life these mad-cap explorations; she shows how they transformed our understanding of the planet."
— David Grann, author of The Lost City of Z

"This history, the first of its kind, is a lively charge through 500 years of worldwide exploration (and beyond)….Chaplin's greatest feat is convincingly demonstrating that circumnavigation is not just a series of dates, death tallies and speed records… In the present day, that sense of collective, global history is more urgent than ever."
— Los Angeles Times

"Weaving myriad connections among disparate voyagers, Chaplin combines acute insights with amazing adventures in a vastly entertaining narrative." [Starred Review]
— Booklist

"Hardship, frolic, barnstorming, and spiritual enigma shape this scintillating history of round-the-world travel…The book's heart is its profusion of entertaining travel picaresques with their gallery of colorful figures on grand, eccentric, or piratical quests…Chaplin is such a charming, perceptive raconteur that we're happy to drift in the eddies of her prose." [Starred Review]
— Publishers Weekly

"All the voyagers who have ventured fearful into the vast unknown spaces of our planet have a patron saint: Harvard historian Joyce Chaplin. Did she, like them, really appreciate what she was getting into when she set sail to track the adventures of the circumnavigators by sail, steam, and spaceship over 500 years?
The risks for Chaplin, as the first complete chronicler of the globe-circlers, were that she would either get becalmed in a Pacific ocean of research, or lose the narrative thread in unloading all her plunder.
The reader may safely embark with eager anticipation. She can be welcomed home with garlands. Her book is a treasure of thrilling stories, replete with insights into the advances of science, technology and medicine, and it's reflective, too. The planet we encircle and embrace is our only home in the cosmos."
— Sir Harold Evans, author of The American Century

"Joyce Chaplin is a great historian with a fresh eye and a sure touch. She is a story teller with keen insight, command of the material, a sense of whimsy, and a flair for portraying human drama. What a wonderful way to go around the world."
— Evan Thomas, author of Ike's Bluff

"Rich in detail, fresh perspective and even wit, it's a sweeping discourse that covers the 500 years from Portuguese explorer Magellan to contemporary times. It's a tale of adventure, danger and fascinating insight into what has, for five centuries, compelled humans to 'take on' the planet… marvelous…fascinating."
— American Profile
Simon & Schuster, 9781416596202, 560pp.
Publication Date: November 19, 2013
About the Author
Joyce E. Chaplin is the James Duncan Phillips Professor of History at Harvard University. She is the author of four previous books of nonfiction, including The First Scientific American: Benjamin Franklin and the Pursuit of Genius (2006), a finalist for the Los Angeles Times Book Prize (Science and Technology Category), and winner of the Annibel Jenkins Prize of American Society for Eighteenth-Century Studies.
or
Not Currently Available for Direct Purchase