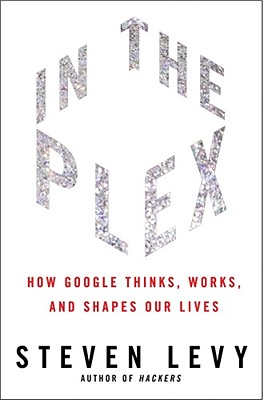 In the Plex
How Google Thinks, Works, and Shapes Our Lives
Hardcover

* Individual store prices may vary.
Other Editions of This Title:
Paperback (2/2/2021)
Compact Disc (4/1/2012)
MP3 CD (4/1/2012)
MP3 CD (5/17/2011)
Compact Disc (5/17/2011)
MP3 CD (9/23/2014)
MP3 CD (5/1/2011)
Compact Disc (5/1/2011)
Description
Written with full cooperation from top management, including cofounders Sergey Brin and Larry Page, this is the inside story behind Google, the most successful and most admired technology company of our time, told by one of our best technology writers.

Few companies in history have ever been as successful and as admired as Google, the company that has transformed the Internet and become an indispensable part of our lives. How has Google done it? Veteran technology reporter Steven Levy was granted unprecedented access to the company, and in this revelatory book he takes readers inside Google headquarters—the Googleplex—to show how Google works.

While they were still students at Stanford, Google cofounders Larry Page and Sergey Brin revolutionized Internet search. They followed this brilliant innovation with another, as two of Google's earliest employees found a way to do what no one else had: make billions of dollars from Internet advertising. With this cash cow, Google was able to expand dramatically and take on other transformative projects: more efficient data centers, open-source cell phones, free Internet video (YouTube), cloud computing, digitizing books, and much more.

The key to Google's success in all these businesses, Levy reveals, is its engineering mind-set and adoption of such Internet values as speed, openness, experimentation, and risk taking. After its unapologetically elitist approach to hiring, Google pampers its engineers—free food and dry cleaning, on-site doctors and masseuses—and gives them all the resources they need to succeed. Even today, with a workforce of more than 23,000, Larry Page signs off on every hire.

But has Google lost its innovative edge? With its newest initiative, social networking, Google is chasing a successful competitor for the first time. Some employees are leaving the company for smaller, nimbler start-ups. Can the company that famously decided not to be evil still compete?

No other book has ever turned Google inside out as Levy does with In the Plex.
Praise For In the Plex: How Google Thinks, Works, and Shapes Our Lives…
"Levy is America's premier technology journalist. . . . He has produced the most interesting book ever written about Google. He makes the biggest intellectual challenges of computer science seem endlessly fun and fascinating. . . . We can expect many more books about Google. But few will deliver the lively, idea-based journalism of In the Plex."
—Siva Vaidhyanathan, The Washington Post


"Almost nothing can stop a remarkable idea executed well at the right time, as Steven Levy's brisk-but-detailed history of Google, In the Plex, convincingly proves. . . . makes obsolete previous books on the company."
—Jack Shafer, The San Francisco Chronicle


"The rise of Google is an engrossing story, and nobody's ever related it in such depth."
—Hiawatha Bray, The Boston Globe


"Dense, driven examination of the pioneering search engine that changed the face of the Internet.

Thoroughly versed in technology reporting, Wired senior writer Levy deliberates at great length about online behemoth Google and creatively documents the company's genesis from a 'feisty start-up to a market-dominating giant.' The author capably describes Google's founders, Stanford grads Larry Page and Sergey Brin, as sharp, user-focused and steadfastly intent on 'organizing all the world's information.' Levy traces how Google's intricately developed, intrepid beginnings and gradual ascent over a competitive marketplace birthed an advertising-fueled 'money machine' (especially following its IPO in 2004), and he follows the expansion and operation of the company's liberal work campus ('Googleplex') and its distinctively selective hiring process (Page still signs off on every new hire). The author was afforded an opportunity to observe the company's operations, development, culture and advertising model from within the infrastructure for two years with full managerial cooperation. From there, he performed hundreds of interviews with past and current employees and discovered the type of 'creative disorganization' that can either make or break a business. Though clearly in awe of Google's crowning significance, Levy evenhandedly notes the company's more glaring deficiencies, like the 2004 cyber-attack that forced the removal of the search engine from mainland China, a decision vehemently unsupported by co-founder Brin. Though the author offers plenty of well-known information, it's his catbird-seat vantage point that really gets to the good stuff.

Outstanding reportage delivered in the upbeat, informative fashion for which Levy is well known."

—Kirkus Reviews (starred review)

"An instructive primer on how the minds behind the world's most influential internet company function."
—Richard Waters, The Wall Street Journal


"[Steven Levy] spent much of the past three years playing anthropologist at one of the Internet's most interesting villages and set of inhabitants -- the Googleplex and the tribue of Googlers who inhabit it. . . . A deep dive into Google's culture, history and technology."
--Mike Swift, San Jose Mercury News

"The wizards of Silicon Valley often hype their hardware/software breakthroughs as 'magical' for the products' ability to pull off dazzling stunts in the blink of an eye. And true to the magicians' code, these tech talents rarely let mere mortals peer behind the curtains. . . . That's what makes Levy's just-out tome so valuable."
—Jonathan Takiff, The Philadelphia Daily News


"The most comprehensive, intelligent and readable analysis of Google to date. Levy is particularly good on how those behind Google think and work. . . . What's more, his lucid introductions to Google's core technologies - the search engine and the company's data centres - are written in non-geek English and are rich with anecdotes and analysis. . . . In The Plex teems with original insight into Google's most controversial affairs."
—Andrew Keen, New Scientist


"Steven Levy's new account [of Google], In the Plex, is the most authoritative to date and in many ways the most entertaining."
—James Gleick, The New York Review of Books

Simon & Schuster, 9781416596585, 432pp.
Publication Date: April 12, 2011
About the Author
Steven Levy is editor at large at Wired magazine. The Washington Post has called him "America's premier technology journalist." His was previously founder of Backchannel and chief technology writer and senior editor for Newsweek. Levy has written seven previous books and his work has appeared in Rolling Stone, Harper's Magazine, Macworld, The New York Times Magazine, Esquire, The New Yorker, and Premiere. Levy has also won several awards during his thirty-plus years of writing about technology and is the author of several previous books including Facebook: The Inside Story; Insanely Great; The Perfect Thing; and In the Plex. He lives in New York City.
Book Videos
Coverage from NPR