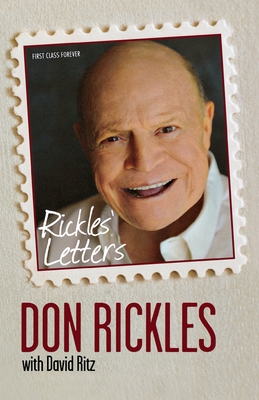 Rickles' Letters
Paperback

* Individual store prices may vary.
Description
Along with collected letters of Ralph Waldo Emerson, Thomas Jefferson and Wendell Willkie, Rickles' Letters illustrates the power of eloquent correspondence and offers universal wisdom for the ages. For example:

RICKLES TO MRS. LINCOLN: "Sorry you had problems at Ford's Theatre last night, but could you get me a couple of aisle tickets for the Saturday matinee?"

RICKLES TO ARNOLD SCHWARZENEGGER: "Lose the cigar. It's hard enough to understand you without it."

RICKLES TO CLINT EASTWOOD: "How many guys could do a movie about Iwo Jima from the Japanese point of view? I got nervous; I thought you were going to let them win!"

RICKLES TO SANTA CLAUS: "Kiss my jingle bells."

RICKLES TO PRESIDENT CARTER: "Forget your hammers and nails and Habitat House and read my book."

RICKLES TO QUEEN ELIZABETH: "Is it true your husband has a day job working at a sword factory?"

RICKLES TO BENJAMIN FRANKLIN: "Cousin Herbie was doing great selling candles until you came up with the stupid idea of flying a kite."

RICKLES TO MAYOR BLOOMBERG: "What do I have to do to get a cab around here?"
Simon & Schuster, 9781416596646, 224pp.
Publication Date: November 15, 2010
About the Author
Don Rickles is looking for his first big break in show business. If you have a gig for him, contact his agent (as soon as he gets one).

David Ritz is a songwriter who has collaborated with stars like Janet Jackson and Marvin Gaye, as well as a renowned ghostwriter who has authored more than fifty books for some of the biggest stars in music: Aretha Franklin, Marvin Gaye, Ray Charles, Lenny Kravitz, Joe Perry, Smokey Robinson, Don Rickles, and Willie Nelson, to name a few. His articles have appeared in The New York Times, Rolling Stone, Essence, People, Art Connoisseur, and elsewhere. He lives in Los Angeles with Roberta, his wife of nearly fifty years.
or
Not Currently Available for Direct Purchase